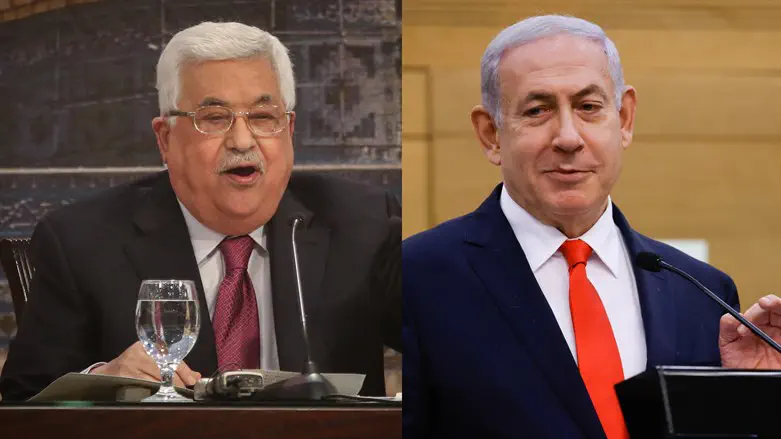 Abbas and Netanyahu
Olivier Fitoussi/Flash 90
Palestinian Authority (PA) chairman Mahmoud Abbas said on Sunday he would have to deal with Prime Minister-designate Benjamin Netanyahu even though he believed Netanyahu was not interested in making peace.
"I knew Netanyahu for a long time, since the 1990s ... He is a man who doesn't believe in peace but I have no other choice but to deal with him," Abbas told Palestine Television, as quoted by the Reuters news agency.
"I have a problem with Israel, Israel occupies my land and my country. Who is the Prime Minister? Netanyahu. I am forced to deal with him," added Abbas.
The interview aired two days after a United Nations committee approved a resolution, promoted by the PA, which asks the International Court of Justice for an opinion on the legal status of Israel's "prolonged occupation, settlement and annexation of the Palestinian territory occupied since 1967."
While Abbas claims that Netanyahu does not believe in peace, it is the PA chairman himself who has rejected multiple overtures from Israel over the years.
Abbas has repeatedly pushed for an international conference for peace in the Middle East, aimed at bypassing the US efforts to resume talks.
In September of 2020, the PA said it began preliminary diplomatic steps to hold an international conference, though nothing has yet materialized as a result of this effort.
Israeli-PA peace talks have been stalled since 2014, when the PA unilaterally applied to join international organizations in breach of the conditions of the talks.