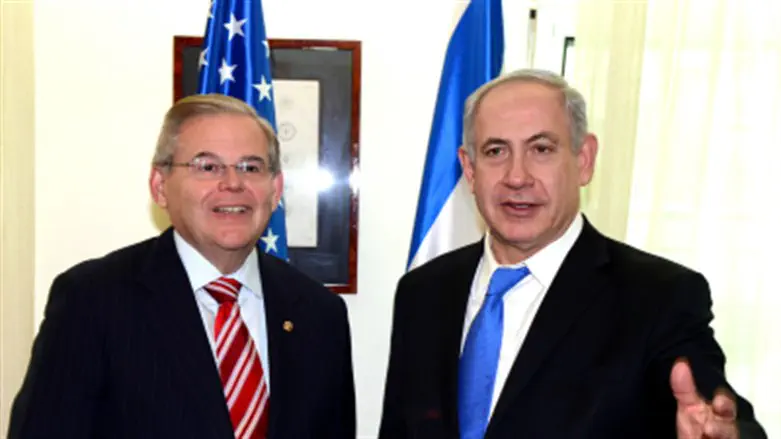 Menendez with Netanyahu
Flash 90
US Sen. Bob Menendez (D-N.J.) warned former Prime Minister Benjamin Netanyahu against forming a government with "right-wing extremists," Axios reported.
According to Axios, two sources familiar with the meeting said that Menendez issued his warning during a trip to Israel last month. In that meeting, Menendez claimed that if MK Itamar Ben-Gvir (Religious Zionism) is part of the government, it could harm US-Israel bilateral relations.
Ben-Gvir, chairman of the Otzma Yehudit party, is running together with Religious Zionism in the upcoming elections. The united list is expected to gain 12-13 Knesset seats, and forms a crucial part of the Likud-led bloc - without it, the Likud will not be able to form a government.
Axios reported that during the September 5 meeting, Menendez "raised his concerns" about Netanyahu's political partners, specifically mentioning Otzma Yehudit and Ben-Gvir and saying that he has "serious concerns" regarding a possible partnership between Netanyahu and "extremist and polarizing individuals like Ben-Gvir" in a potential government.
"People who were in the room saw how pissed off" Netanyahu became with Menendez's comments, one of the sources said, according to Axios.
"The senator told Netanyahu he needed to realize the composition of such a coalition could seriously erode bipartisan support in Washington, which has been a pillar of the bilateral relationship between the U.S. and Israel," the source added.
Meanwhile, US State Department spokesperson Ned Price told Axios that the Biden administration is not weighing in on domestic politics in Israel; Netanyahu's office declined comment.