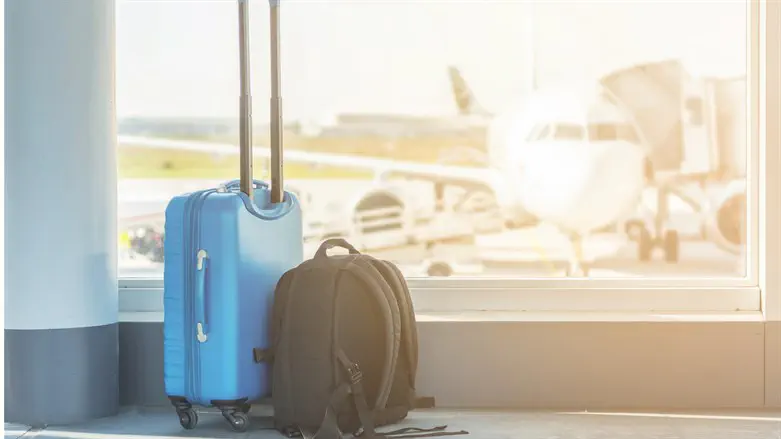 suitcase plane travel luggage airport
iStock
People who have been stuck in their places of residence during the pandemic can't wait to travel because they haven't been traveling for so long. Currently, while there are COVID-19 variants affecting virus prevention and control, it is only a matter of time before travel restrictions are eased in some parts of the world due to rising vaccination rates and manageable cases. Tourism has a chance to recover.
As the worst effects of the COVID-19 pandemic recede, data points to a resurgence of travel — with people looking to explore new destinations or go to their favorite places again. Many people just want to break confines and get out. According to a McKinsey survey, travel is the second most desired activity among respondents (after eating out). In the United States, air travel has reached 2 million passengers a day, close to pre-pandemic levels of about 2.5 million, rather than the low of about 90,000 in April 2020. Hotel bookings and car rental bookings are surging.
Data collated by CouponBirds show that the travel consumer is rebounding. Travel sentiment bottomed out in April 2020 and returned to its pre-pandemic average after two years of COVID-19. The number of passengers arriving at destinations is still negative, but there is also an improvement.
Hotel searches and occupancy rates have rebounded from their lows in 2020. The growth rate of hotel searches volume recovered from -80.89% in April 2020 to -27.54% in June 2022. Occupancy rates grew from 22% in April 2020 to 66% in June 2022. Short-term rentals and travel search recovered better. The growth rate of short-term rentals increased from -29% in April 2022 to 15% in June 2022.
Although the current tourism consumption has not fully recovered, with the relaxation of travel policies in many countries, people's tourism consumption is likely to continue to grow in the future.
Travel demand is always high during the festivals, but the COVID-19 has broken the rule. Travel restrictions caused many people not to travel abroad for more than two years, leaving them to travel within the country and visit their families. In any country, the number of people who are able to travel is increasing, because being trapped at home makes people save money. In the United States, people are saving 10% to 20% more than they did before the pandemic. As a result, those who have increased their savings will spend more on an exciting binge if they have the opportunity to travel abroad. So leisure travel will lead to recovery.
But the travel industry faces a struggle. The first challenge is the vaccination rate and the control of the number of caseloads. Not all countries can release restrictions because the vaccination rate and caseloads control needs to be improved, and some countries may not be open to avoid bringing the pandemic back.
A surge in travel is expected within (and between) countries with manageable and moderate COVID-19 caseloads and vaccine access. Many areas can ease travel restrictions as long as the virus infection and death rates are kept low. In many European countries and the United States, large parts of the population have been vaccinated. Although the number of new caseloads in these areas has fluctuated, the effectiveness of the vaccine so far has made many people feel safe enough to travel. The European Union's move to issue digital health certificates to people who have been vaccinated against COVID-19 could also facilitate mobility.
The second challenge is restoring capacity. It is difficult for the tourism industry to withstand the surge in travel demand in the short term. Airlines, car rentals, hotels, and even the entire travel supply chain are not back to where they were. Wait times at security checkpoints are about an hour longer than they were before the pandemic. Rental cars and hotels at popular vacation destinations are in shortage.
One of the industries hardest hit by the pandemic, the restaurant industry, faces a labor shortage. People laid off during the pandemic have found other jobs or changed careers, making it difficult to return to restaurants. The same applies to the hotel industry and the airline industry. Global airplane capacity levels haven't returned to pre-pandemic levels. Restarting long term-grounded aircraft requires not only pilots and cabin crews, but also service personnel and an overhaul of the aircraft. But rehiring aviation workers, many of whom lost their jobs during the pandemic, is costly and can't be guaranteed to work anytime soon.
The third challenge is a shortage of cash. On the one hand, due to the recession of two years, the profitability of the tourism industry has decreased significantly, resulting in insufficient funds for the current operation recovery. On the other hand, the tourism investment market is also bleak. Investors' confidence in the travel industry has been restrained by fears of high volatility and a long recovery cycle.
In such a difficult situation, digital operation is a turnaround for the tourism industry. Digital operations can significantly improve customer experience and satisfaction. From booking to travel to returning home, digital operations can ensure a complete travel process, track the entire journey, and provide convenient information services.
If a mobile phone app can provide the booking of flights, hotels, and restaurants, purchase tickets for scenic spots and other services, people can confirm the itinerary information and adjust their plan at any time, so that people will make fewer mistakes in their travel and have more time to enjoy the journey. In addition, travel apps need to consider how to solve the problem of authentication and inspection of health certificates during trips.
The boom is just beginning. Experts predict that tourism will not fully recover until at least 2024. In the face of strong tourism demand and various challenges, the joint efforts of supply chain and national health prevention and control departments are needed. Tourism companies and other sectors need to work hard to improve management and operation. It is believed that the tourism industry will become better through continuous efforts.