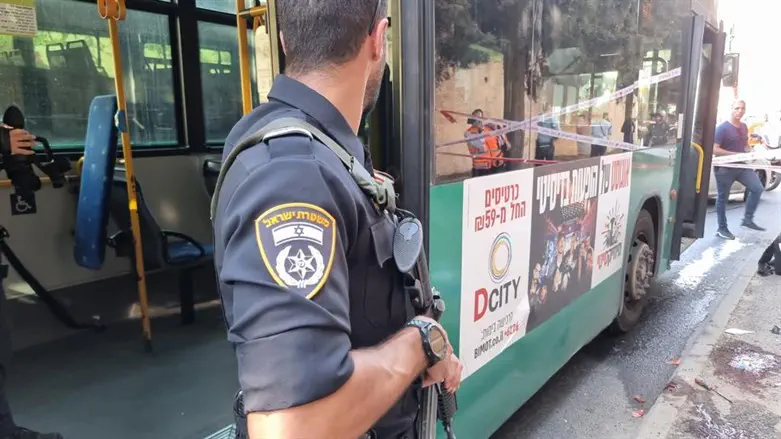 Scene of the Ramot stabbing attack
Israel Police spokesperson
The Jerusalem District Prosecutor's Office on Thursday filed an indictment with the Jerusalem District Court against Ismail Namar, 45, after Namar tried to murder a Jew last month.
According to the indictment, the Jewish victim was wearing a kippah (skullcap) and a white shirt, in a way which made it possible to identify him as a religious Jew, while traveling on a bus from Givat Ze'ev to Jerusalem.
At some point during the journey, the terrorist pulled a screwdriver out of a black bag, jumped towards the Jew, and began stabbing him multiple times, yelling, "Allahu Akhbar!"
The bus driver slammed on the brakes, opened the doors, and the Jew attempted to escape. The terrorist pushed the Jew onto the nearby sidewalk, out of the bus, and continued stabbing him, while the Jew struggled to fight him.
A passerby who noticed the scene threw a stone at the terrorist, causing him to stop stabbing his victim. Another passerby who stopped at the scene called to the terrorist to stop coming towards him, but the terrorist continued, and following this, the passerby shot the terrorist.
As a result of the terrorist's actions, the Jew suffered stabs and fractures all over his body, consequently being hospitalized in moderate condition.
The indictment also charges the suspect with committing an act of terror of attempted murder. The Prosecutor's Office has requested that the suspect be kept under arrest until the completion of legal proceedings against him.