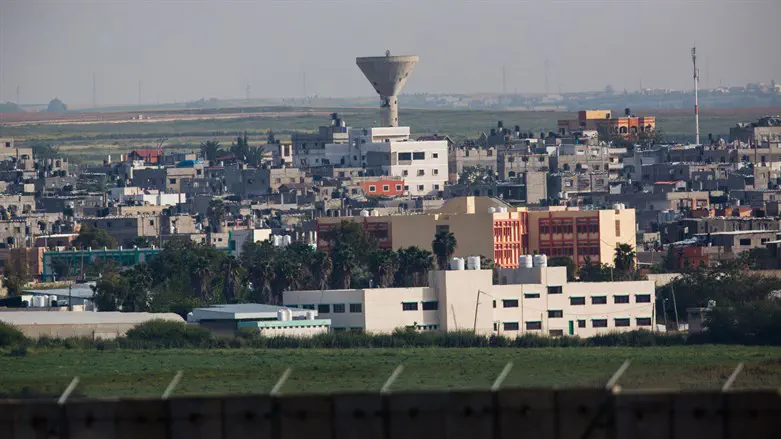 Gaza border town (illustrative)
Korina Keren, Flash 90
The road and site closures, as well as the disruption to the train line, will continue Thursday, for the third day in a row.
The closures were instituted Tuesday following the arrest of Basa'am Asadi, an Islamic Jihad leader in Jenin.
They will not be lifted, despite the seeming calm, due to threats from Gaza.
Meanwhile, Israel has sent a message to Hamas warning that if the tension does not end, Israel will be forced to take steps to end it, and is not afraid of a new Gaza war, Channel 12 News reported.
A military source told Israel National News - Arutz Sheva, "The steps are being taken due to attempts by Islamic Jihad terrorists to carry out a revenge attack. We know that the precautions Israel has taken prevented such a terror attack, and therefore, today as well, the high alert and closures will continue."
On Wednesday, Yediot Aharonot military analyst Yossi Yehoshua harshly criticized the decision to close roads and stop trains from running near the Gaza border.
In a tweet, he wrote, "To stop trains and close roads in the south for a short time, if there was a specific warning - and it is doubtful that there was - that is reasonable."
"To drag it out for two days already, when faced with a little terror group in Gaza, because of an arrest (not an elimination) that happened in Jenin - that is already a problem with deterrence.
"Even if there will be a response in the end, this is still not the behavior of the strongest country in the region. Islamic Jihad - and all the other enemies - need to understand that the price of a rocket on a train will be extremely heavy. Otherwise, we have not learned anything from [Hezbollah leader Hassan] Nasrallah's spider webs."