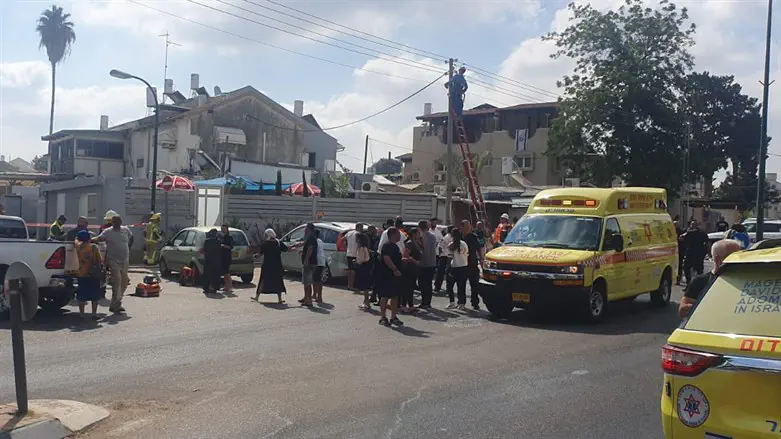 Scene of the Netanya fire
MDA spokesperson
A Monday morning apartment fire in the coastal city of Netanya was caused by a lithium battery, Kikar Hashabbat reported, quoting the Fire and Rescue Services.
The fire injured several people, including an 11-year-old boy, Aviel Davush, who suffered severe burns and required sedation and respiration.
According to the Fire and Rescue Services, the fire was caused by an "electric failure in a lithium battery for electric bicycles."
"This incident serves as a painful reminder of the danger inherent in the batteries which are found in nearly every home and which cost heavily in both lives and property. In 2021, six people died as a result of lithium batteries exploding."
"Lithium batteries contain a lot of power within them, and unsafe use may lead to an explosion, the release of pent-up energy, and a significant and life-threatening fire which may cost in human lives. During the summer months, we identify a rise in the number of batteries going up in flames, when they are stored outside or within a home, due to the influence of the outside temperature on that of the battery."
The Fire and Rescue Services added that since the start of 2022, approximately 121 fires broke out in Israel due to batteries, most of them causing severe damage to the apartment and the surroundings (stairwells). In 2021, a total of 214 such fires broke out, leading to the deaths of six people. That year, over 200 apartments were burned due to unsafe use of lithium batteries.