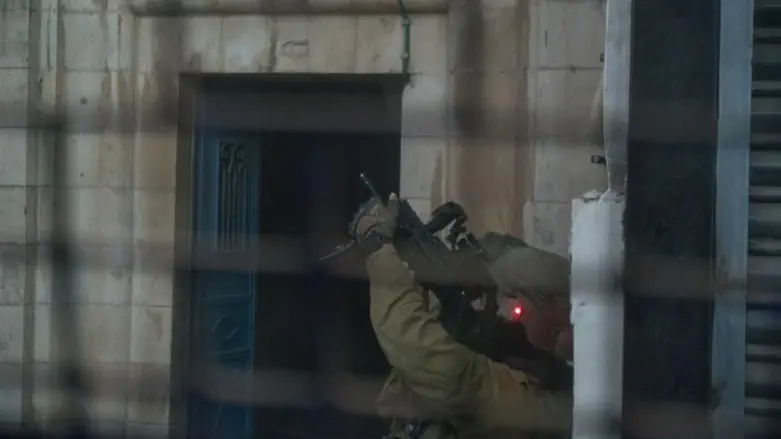 Security officers in Jenin
IDF Spokesperson's Unit
Following a situational assessment after terrorist activities were identified with the Palestinian Islamic Jihad terrorist organization, it was decided to block off areas and routes adjacent to the Gaza Strip security fence as of Tuesday morning.
A security official explained that "the preventive measures in the Gaza Strip are designed to prevent the Islamic Jihad from degenerating the Gaza Strip into a reaction and escalation."
All areas heading west of route 232 will be blocked off in both directions, as well as the following routes:
Route 4 - from Zikim Junction to the route accessing the Erez Crossing.
Route 34 - from Yad Mordechai Junction to the Nir Am Crossing.
Route 232 - from Nir Am to Kerem Shalom.
In addition, it has been decided to close the Zikim Beach to visitors, cancel train services between Ashkelon and Sderot and to close the Erez Crossing.
The area has been closed to civilians due to a direct threat and in order to prevent a possible attack on civilians.
Map of closures (in Hebrew)
Photo: IDF Spokesperson's Unit
The decisions on the closures came hours after IDF, Israel Security Agency (Shin Bet) and Israel Border Police forces conducted counterterrorism activities in the Jenin camp.
A number of gunmen shot at the security forces as they entered the city of Jenin, who responded with live fire. Hits were identified.
Israeli Border Police forces apprehended two wanted terror suspects. The suspects were transferred to security forces for further questioning.
During the activity, the forces confiscated a handgun, magazines, M-16 bullets and cash.
No injuries to Israeli security forces were reported.