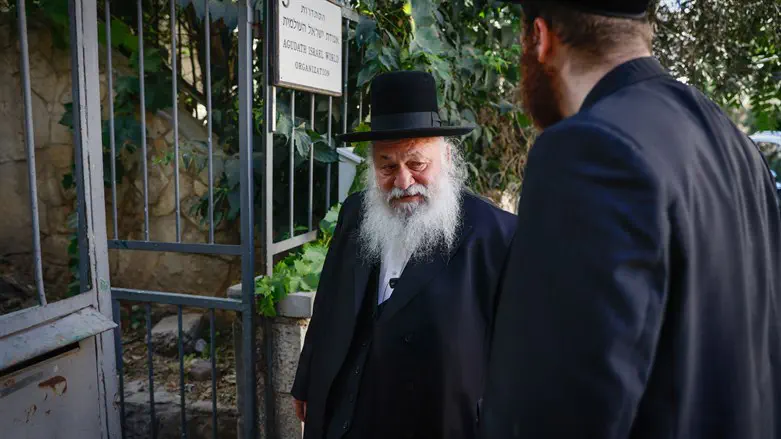 Yitzhak Goldknopf
Olivier FItoussi/FLASH90
Yitzhak Goldknopf, who was chosen to lead the Agudat Yisrael faction of United Torah Judaism in the Knesset instead of Yaakov Litzman, on Monday responded to the statements of Shas chairman Aryeh Deri regarding the future political conduct of UTJ and said that the haredi parties will form a government only with Benjamin Netanyahu and the Likud.
"I agree with Deri, United Torah Judaism will only go with Netanyahu. There is a unified opinion on this issue of the councils of Torah elders. I see no reason for us to deviate from the path of the right," Goldknopf said in an interview with the haredi radio station Kol Barama.
Goldknopf criticized the overt attacks in the Likud against MK Moshe Gafni, who heads the Degel HaTorah faction of UTJ.
"I don't understand the meaning of the attacks by members of the Likud against Gafni. Have they spoken to him directly and heard from him that he is not going with them? I sent a message to Likud to stop the attack against Gafni, in the end these attacks will not bring more votes. There is a right-wing bloc that existed in the past and will continue to exist in the future," he added.
Deri had stated earlier on Monday that there is no reason to worry about what Gafni said regarding the next government.
"I tell you responsibly that there is nothing to fear. Talk is talk, they have internal accounts. I take responsibility for UTJ. It belongs to our block; it will go to a government led by Netanyahu and will not go to any government without Likud," he said.
The person who didn't like Deri's statements was Gafni himself. Speaking at a conference later on Monday, he commented on the possibility that UTJ will not go with Netanyahu after the elections and took a shot at Deri.
"No one should be concerned about us and no one should take responsibility for us going with the right. No one should do us any favors. We do what the sages tell us."
"I've been in the Knesset for 33 years, I've always gone with the right because the traditional public is on the right. When people like this come and take ownership in such a condescending manner that they will make sure that United Torah Judaism goes with the right and Netanyahu after the elections, it looks bad and sounds bad."
Gafni added, "It's also irrelevant. I wish they would learn from us how we always went with the right. In the other parties there are people who don't believe and don't do what a Jew should do."