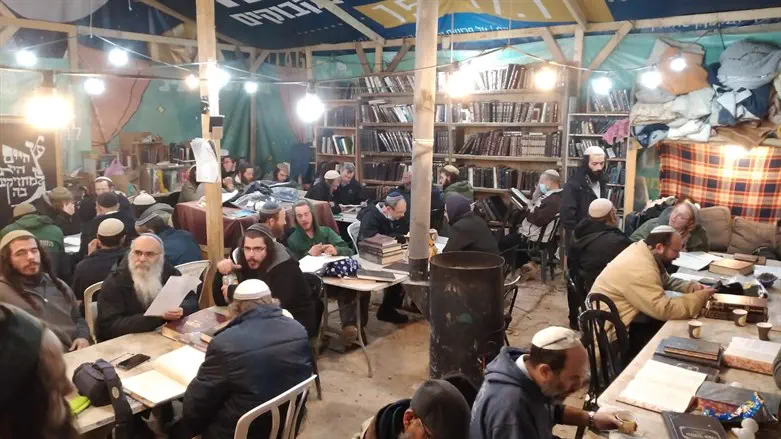 Homesh Yeshiva
Homesh Yeshiva
The management of the Homesh yeshiva met with the police leadership following an incident in which the yeshiva was forcibly evacuated during Shabbat.
Chief Rabbi of the Police Rabbi Rami Brachyahu met with Rosh Yeshiva of the Homesh Yeshiva Rabbi Elishma Cohen, and the two published a letter stating: "The Israel Police are committed to the necessary balance between being a life-saving security organization that operates all year round for the security of the country and its citizens, and respect for Shabbat as a national organization of the State of Israel."
Chief Rabbi of Israel, Rabbi David Lau, sent a letter following the evacuation of Yeshiva students from Homesh after the start of Shabbat, which forced the students and forces to violate Shabbat. Following this, a joint meeting was held to which commanders who were in the field and presided over the evacuation sat together with the Rosh Yeshiva and other representatives of the yeshiva.
Following the meeting, Rabbis Brachyahu and Cohen published their letter stating that the police recognize the importance of Shabbat and that similar incidents must not occur in the future.
In addition, it was agreed at the meeting that, in order to prevent future incidents in general, and regarding Shabbat desecration in particular, Rabbi Brachyahu and Rabbi Cohen would maintain regular contact and even conduct a joint tour of Homesh in order to understand the positions of the yeshiva students and the police in the field.
"The meeting took place in a good atmosphere and with mutual respect," stated the letter.
Referring to Chief Rabbi Lau's letter to the police commissioner, they said: "The Honorable Chief Rabbi of Israel is well aware of the actions taken by the police to honor Shabbat, including the establishment of Shabbat-observant police stations that enable the provision of police services to the religious and haredi population in Israel. We believe that together, in an open and common dialogue, we can work to keep Shabbat while committing to the well-being and security of the citizens."
On Friday, IDF soldiers and police officers confiscated solar panels that provide electricity for the Yeshiva Chumash, about two hours before Shabbat, in the middle of a heatwave. The forces damaged the yeshiva's electrical system and left the yeshiva without electricity over Shabbat