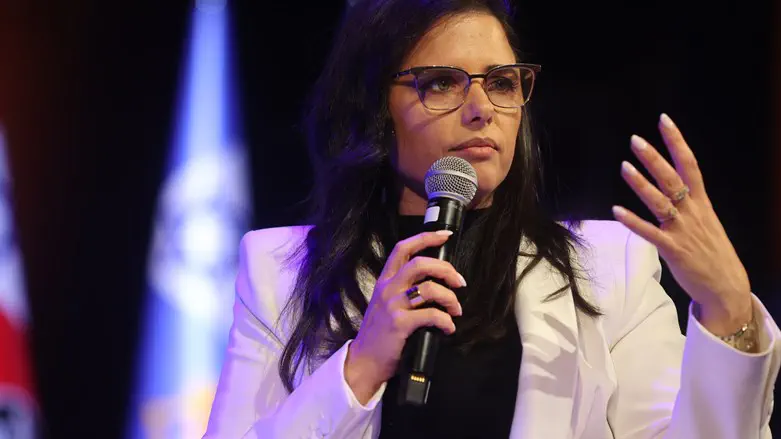 Ayelet Shaked
Flash90
Interior Minister Ayelet Shaked, who leads the Yamina party, slammed those who claim to be interested in a unity government but are not willing to work with former Prime Minister Benjamin Netanyahu.
In an interview with Kan 11, Shaked said, "Anyone who speaks about a unity government without Netanyahu is selling tall tales, because there's no such government."
She added that such people are throwing sand in the eyes of the public, because Netanyahu heads the Likud party.
"We have seen that narrow governments simply do not work," she said. "We were in a narrow government. It did not last. It was dependent on all sorts of sources, extremists, who brought it down, and therefore the State of Israel after five rounds of elections deserves stability."
When asked what she sees as the ideal broad government, Shaked responded that in her opinion, Likud, Blue and White, and other sources from the right-wing bloc would express and give expression to large portions of the country..
When asked about the outgoing government's reliance on the United Arab List (Ra'am), Shaked said, "We went with this process because there was no other option, and with great concerns. And we saw that after a year, it did not work."
According to her, there was only one right-wing representative in that government, and "half the public felt that this was not their government."
Yamina's newly-announced joint run with Derech Eretz, in a new party dubbed the, "Zionsit Spirit," is a union based on shared values, she told Kan 11.
"Together we reached the conclusion that the right thing is to stop with the boycotts and form a unity government, even with the Likud."
She and Derech Eretz chief Communications Minister Yoaz Hendel have agreed to work together, make decisions together, and act together, Shaked said, emphasizing, "That is the agreement and I hope that that is also what will happen."
On Alternate Prime Minister Naftali Bennett's decision not to run in the next elections, Shaked said, "This is not a secret. I hoped that he would continue, but since he made the decision, I decided that I am not going to give up, and I will fight."
"He gave me the party with a full heart - when he wants to return, we will work it out."