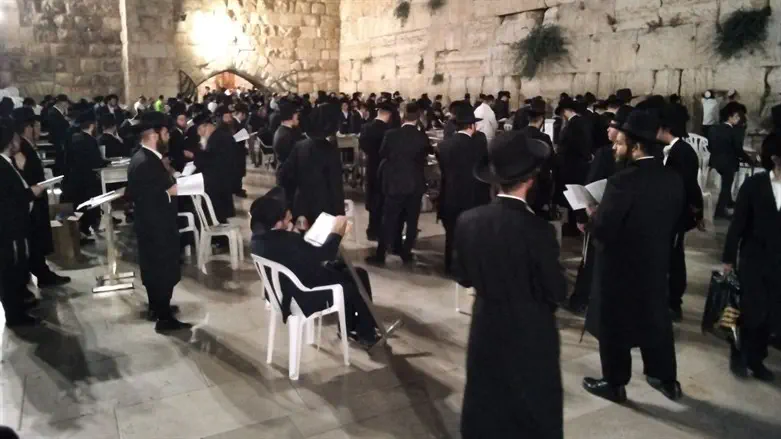 Prayer rally at the Western Wall (archive)
Courtesy of the photographer
On Thursday, the Supreme Court is due to hear a petition submitted by the haredi Rabbinical Committee for Media & Communications, regarding the proposed changes to the law being promoted by Communications Minister Yoaz Hendel. On Wednesday night, a prayer gathering was held at the Western Wall for the cancellation of Hendel's decrees, and Rabbi Shalom Cohen, the President of the Shas Council of Torah Sages, has called for multiple prayer gatherings on Thursday for the success of the petition.
Hendel has long been pushing to have the "kosher cell phone" option essentially cancelled, drafting legislation to drastically reformulate the cell phone packages used by hundreds of thousands of haredi subscribers, which bar access to undesirable content and restrict cell phones to voice calls only (blocking text messages, and more critically, internet access).
Haredi representatives and community leaders have made multiple overtures to Hendel asking him to reconsider, but their appeals fell on deaf ears. Meanwhile, Hendel has also been coming under pressure from LGBT organizations seeking to have access to their "support" phone lines opened to haredi subscribers.
In a last-ditch attempt to resolve the issue, new legislation was drafted last month by Shas MK Moshe Arbel to amend the Communications Law to permit subscribers or groups of subscribers to agree to restrict or block access to various cellular services including specific numbers. The bill has already successfully passed committee stage and its first reading in the Knesset, and is expected to gain Knesset approval in its second and third readings.
With new legislation in the pipeline, haredi MKs are now seeking a Supreme Court restraining order against Hendel's reforms, based on the fact that there are procedures advancing in the Knesset to settle the matter.
Hendel has sharply attacked the developments, claiming that "askanim" (community activists) within the haredi community are acting against the interests of the people they represent and insisting that his intent is to benefit haredim.
In response, MK Uri Maklev (UTJ) excoriated Hendel for his "war against kosher cell phone packages. This is all that will be remembered of his tenure as Communications Minister," Maklev said. "Meanwhile, the haredi public suffers from inadequate cell phone reception [in the areas where they live], with entire neighborhoods even in the capital city with such problems, and you have done nothing to address this issue."