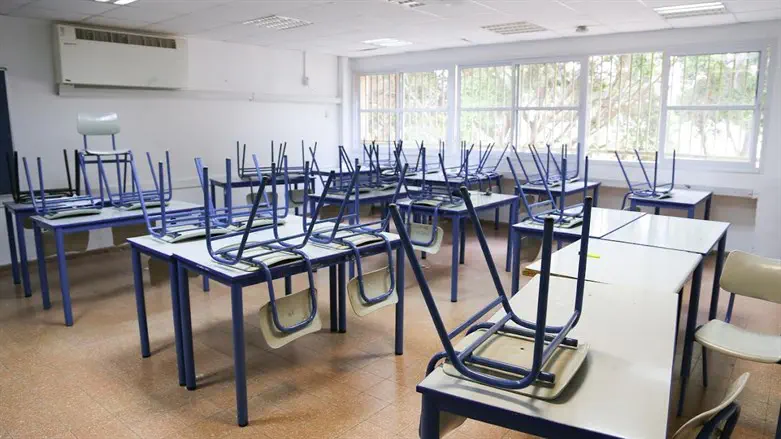 Classroom
צילום: shutterstock
The Education Ministry's proposal for the teachers' salary crisis is to give starting teachers NIS 9,500 and after three years a special bonus, while new school principals would start with NIS 20,000.
Israel National News-Arutz Sheva spoke with Professor Haim Shaked, chairman of the Forum of Presidents of Academic Colleges of Education about whether this proposal will be the solution to the crisis which will ensure the school year starts on time.
"It's not just a matter of money, the salaries teachers receive demonstrate the low status of teaching as a profession," says Prof. Shaked. "A change is needed in the attitude of the public, especially the decision-makers, towards the men and women of education."
He said that "The image that teachers don't work much, that they have a lot of free time and short working days, this image causes a lack of respect. There is also an image that education is a field that we all understand, and we can tell teachers what to do. We have no respect for their profession."
On the other hand, says Prof. Shaked, "It is considered a profession that should not be studied. The salary is low, there are short breaks, and coffee is brought from home. The teaching profession is seen as a profession that should be avoided. Many parents tell their children not to study education and go into a profession where they would earn more money. Young men and women who are undecided hear those around them asking if they have gone crazy. People are not interested in coming and are looking for other alternatives, because of the bad image teaching has, there is an extreme shortage of teachers for English, science, and math".

Regarding the education system's claim that Israel is short 6,000 teachers, Prof. Shaked says thae real number is much higher. In his estimation, the real number is closer to 20,000, but not all are counted. "The direct shortage is about 6,000 open positions now, but there are schools that do not open a department in physics because they cannot find teachers. They just do not search for teachers and therefore do not report a shortage. Some schools hire teachers who are not professionals in the field and so apparently there is no problem."
In his opinion, the answer is a budgetary issue. "Both the Finance Ministry and the Education Ministry need to understand that they must allocate money to solve the crisis. What the Finance Ministry proposes is to increase the salary of teachers starting and reduce the salary of seasoned teachers. This way, the crisis will not be resolved. The State of Israel has an education system that is facing a serious problem and we see it getting worse ".
"The education system is not an expense but an investment. When Israel has a good education system, the profits will come over the years. We produce good students who will get better jobs and better pay. We need a little economic pressure now to ensure a better future. If we cut back now, we are dooming our future, because students will not reach high-level employment or a higher income. There is no choice but to invest now to receive the money in the future."