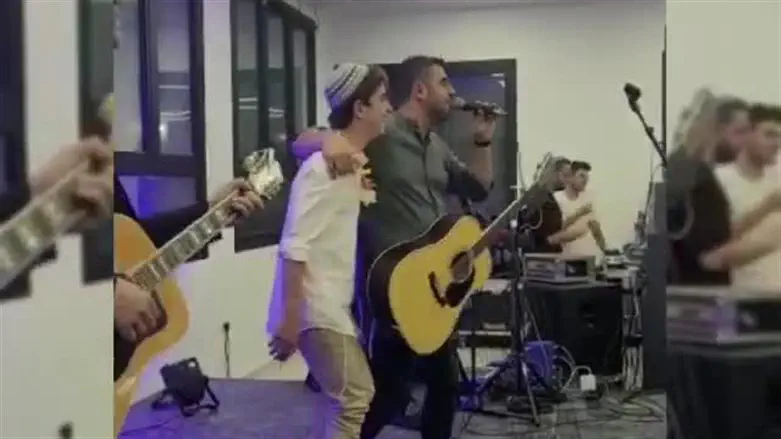 Ishay Ribo and Noam Raz's son
Binyamin Region spokesperson
Two-and-a-half months after Yamam officer Noam Raz was killed during a counterterror operation, a Torah scroll was dedicated in his memory in the Binyamin Region town of Kida.
The scroll was donated by businessman Amos Luzon. It was dedicated in a festive parade with the Raz and Luzon families, rabbis, the head of the regional council, and friends, and was brought to the new synagogue being built in Kida.
Immediately following the dedication, the family held a special bar mitzvah celebration for Segev Raz, Noam's son.
At the bar mitzvah celebration, Segev received a surprise: Singer Ishay Ribo arrived, and dedicated his song, "Halev Sheli," to Segev, dancing with him after the song.
Amos Luzon, who donated the Torah scroll, said, "After the initial seven-day mourning period, I promised Noam's widow, Efrat, that we would dedicate a Torah scroll in honor of the hero of Israel. Efrat asked to hold the dedication on the 25th of Tamuz, which was the day of Segev's bar mitzvah, and I promised her that in Segev's honor, we would hold a celebration the likes of which the town of Kida had never seen before. I thank Efrat and her children for giving me the merit of this mitzvah (Torah commandment)."
Efrat said, "Thanks to the generous Luzon family, residents of Kida, the Council and the friends, who helped in the enormous investment in this production, Segev was able to celebrate a happy bar mitzvah."
ישי ריבו הפתיע את הבן של נועם רז הי"ד
דוברות בנימין