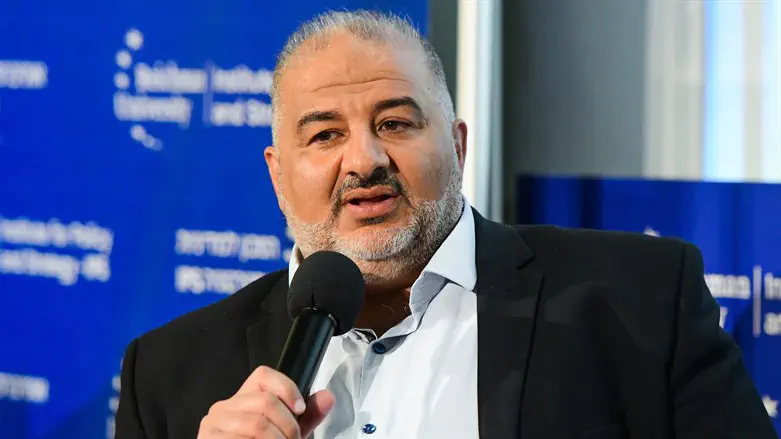 Mansour Abbas
Avshalom Sassoni/Flash90
MK Mansour Abbas from the Ra'am Party is proud of his party's influence on the government that brought in tens of thousands of workers from the Gaza Strip into Israel and of the role Ra'am and the Islamic Movement have played in supporting Palestinian Arabs.
In an interview with the Arabic language Nasradio, Abbas, who also serves as the head of the political wing of the southern faction of the Islamic Movement, said that Ra'am works for the benefit of Arab society on issues that it can bring achievements.
In this context, Abbas clarified that this does not come at the expense of "aid to the Palestinian people", as he put it. "Do these things mean that we, as sons of a Palestinian Arab society, do we not have a responsibility that we carry out and uphold towards our Palestinian people? Certainly. And this example at its core is embodied in the best way by the Islamic Movement and Ra'am, unlike the other parties."
"In practical terms, the Islamic Movement says: I founded Ra'am in order to serve the members of our Arab society on the political level, but I have other institutions through which I serve Arab society and the Palestinian people."
"The Islamic Movement through its institutions serves the Palestinian people, Al-Quds (Jerusalem) and the Al-Aqsa Mosque. (It transfers) 25,000 allowances to Palestinian orphans in the West Bank and Jerusalem. On the other hand, Ra'am serves two million Arabs inside Israel," he explained.
On Ra'am's achievements vis-à-vis the Palestinian Arabs, Abbas said, "This government (which is based on a coalition with Ra'am) managed to improve certain relations in less than a year, with the Palestinian Authority, with the Gaza Strip. Tens of thousands of workers... enter (Israel) and return (to the Gaza Strip) with their livelihood and improve their living conditions, but we are also creating a dynamic of change in the basic political positions (of the government), and this takes time."
Abbas stressed the importance of Ra'am's role in the Palestinian issue: "We, Ra'am, have succeeded in strengthening and empowering our Arab society within Israel, and in the end, this will benefit the Palestinian issue."
On the upcoming elections, Abbas said, "We, Ra'am, need ten Knesset members in the upcoming elections so that we can serve our Arab society through 20 (government) ministries, 80 local councils, and 130 Arab towns."