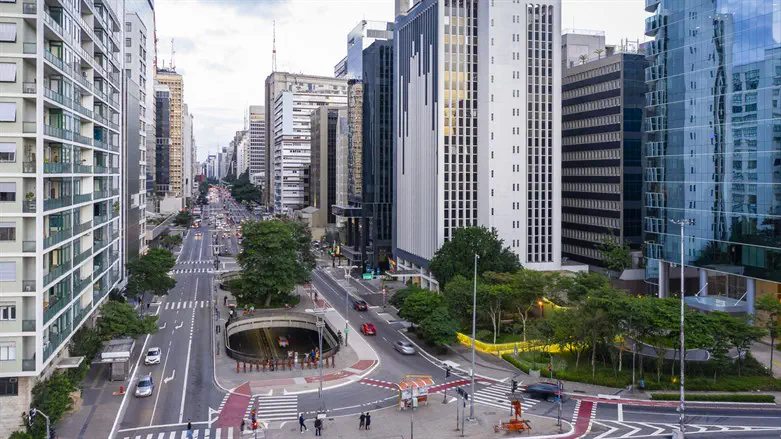 Sao Paulo, Brazil
ISTOCK
Rabbi Hillel Mertzbach, Rabbi of the town of Yad Binyamin, today described the hours of uncertainty and the sigh of relief from the community when one of his congregants, businessman Moshe Bendak, was rescued from kidnappers in Brazil over the weekend.
"It was last Friday," said Rabbi Mertzbach. "At 7:30 in the morning, his wife calls me and says that her husband was kidnapped. I went to her house and we began to set up a sort of war room. It was only later that I realized he had been abducted in Brazil and not from their home."
"His daughter was with him in Brazil and he disappeared," he recounts. "When she couldn't find him after twelve hours, they started searching in earnest. He hadn't checked into a hospital, his phone was found abandoned somewhere, the car was found unlocked in an unusual location, and they realized that he was probably kidnapped. This is a phenomenon that happens in Brazil and we were very worried, especially since he's an affluent businessman. It was possible that they would have demanded an exorbitant ransom, a fact that was taken into account in the war room."
"From our war room, we began to get in touch with every official service possible, including the police and Foreign Ministry, to see what could be done to save him." At the same time, "we decided to organize a communal prayer drive," said Rabbi Mertzbach. "There were prayers at the Western Wall and in many synagogues, with hundreds of people in attendance."
I got up to speak before we began. 'My friends, I don't know what Moshe's condition is, maybe God forbid he had some kind of cardiac arrest. They can't find him anywhere, and there is serious concern that he was abducted. We ask that no one publish this to prevent those who took him from hearing who he is and raising the price for his release. We are checking if this was a kidnapping, and if so, if it was motivated by financial or nationalist intentions. In the meantime, we can do nothing but pray - so let us pray.'
According to him, "The prayer began, a truly electrifying atmosphere. Everyone prayed and said Psalms with all their might. There was an immense feeling of the power of prayer. After about twenty minutes of prayer, Elad Berger, who works at the Foreign Ministry, came up to me and said to me, 'Rabbi, the Foreign Ministry has now been informed that something is starting to happen. They have begun financial negotiations'. I stopped the prayers to announce 'Moshe is, thank God, alive. Financial negotiations are underway for his release. We must keep praying, though - even these negotiations can end in a death.'"
"While praying, financial negotiations were underway, and Moshe's wife, in coordination with the police, was debating how to proceed," he said. "At first, the ransom was a sum of roughly 10,000 Brazillian reals (equivalent to approximately $1850 USD or 6500 ILS), but we knew that if they found out who he was they would demand more, knowing that the Israeli economy would support nearly any amount demanded to ransom him. The hostage takers began sending videos of him being beaten to pressure us into releasing the money."
According to Rabbi Mertzbach, there was some confusion as to how to move the money from Israel to Brazil. "The family decided to pay. We eventually transferred it by sending the money to an ATM," he said. "Moses probably took out the 10,000 Brazilian currency, brought them the money, and started to run away. Thank God he was saved."
Rabbi Mertzbach described how the residents of Yad Binyamin took upon themselves good deeds and prayers to merit the release of their kidnapped friend. "In prayer, we accepted the yoke of the Kingdom of Heaven and people began to pledge all kinds of good deeds," he explained. "I asked everyone to give a shekel to charity and people started bringing bills. One stood up and said, 'I am very, very angry with someone and I take it upon myself to forgive him for Moshe's sake.'
Moshe Bendak thanked the residents of Yad Binyamin today (Sunday) for supporting him and his family during the difficult times. "I am sending this message to thank especially all the residents of Yad Binyamin all the amazing residents of Nahal Sorek Council in general, for the extraordinary support in the case that happened to me here in Brazil," Bandek said in a message he sent on the residents' WhatsApp group.
"The support my family had, the care, the prayers, it's really not to be taken for granted," he noted. "I was very, very moved to hear and see how much the community does when needed, we feel that we live in a blessed place where there is incredible unity. I have no words. I just wanted to say thank you, and on occasion, when I return to Israel, I hope to say thank you to each and everyone in person."
"Everyone knows very well in their heart how much he did and I thank everyone," he added. "Thank you very much. May we really only have good news and may we continue this unity every day because we truly live in a special place."
Bandek, who manages handbag and diamond stores in Brazil, was kidnapped by criminals. The Ministry of Foreign Affairs was in contact with the family and with the relevant Brazilian authorities until his release.