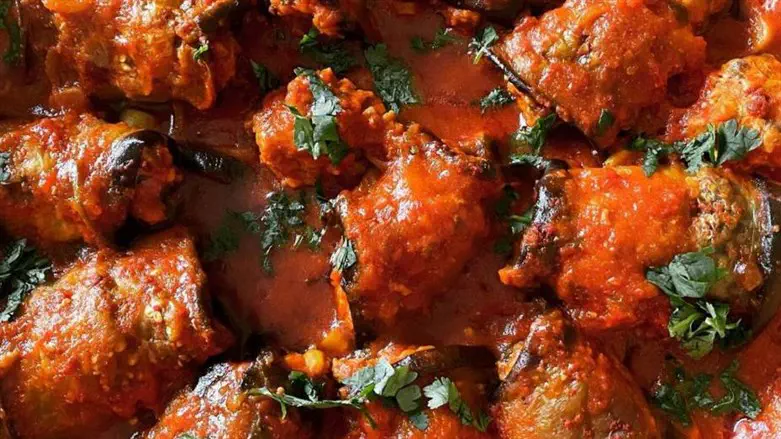 Meat-Stuffed Eggplant
Elisa Levi / Kosher.com
Ingredients:
2 large eggplants
1 pound ground chicken
1/4 pound ground beef
1/3 cup pine nuts
14-ounce can of Tuscanini Crushed Tomatoes
2 tablespoons Tuscanini Tomato Paste
1 large onion, grated or minced
5 cloves garlic, chopped
1/4 cup oil (I used avocado)
1 tablespoon silan
1 teaspoon ras el hanout (or allspice)
1 tablespoon onion soup powder (can be omitted; if you do, add more salt)
1 teaspoon sweet paprika
1/2 cup fresh, cleaned cilantro, chopped
1 egg (can be omitted)
Start Cooking
Wash your eggplants and slice lengthwise into slices about half an inch thick.
Sprinkle a bit of salt and let sweat. After 20 minutes, pat dry.
Preheat your oven to 375 degrees Fahrenheit. On a baking sheet lined with Gefen Parchment Paper, lay down your eggplant slices and brush with olive oil. Roast in oven 25 minutes till slightly browned and eggplant is soft.
In a bowl, combine meat, chicken, egg, ras el hanout, pine nuts, salt, pepper, some crushed garlic, a bit of cilantro, half the tomato paste, and oil, and mix well.
In a deep skillet, add tomato sauce, onion, remaining garlic, remaining tomato paste, salt, and pepper. Bring to a simmer. Place a spoon of the meat mixture at one side of the eggplant and roll up the eggplant, covering the meat. Place the eggplant rolls seam-side down into your sauce.
Continue with all the meat and eggplant slices. If you have some meat left, make a few meatballs and add to the skillet. Top with some more cilantro and silan. Sprinkle paprika and onion soup mix and then cook covered 30 minutes at a medium-low simmer. Remove lid and cook a few minutes longer, letting the sauce thicken. Top with a bit of fresh cilantro and serve.