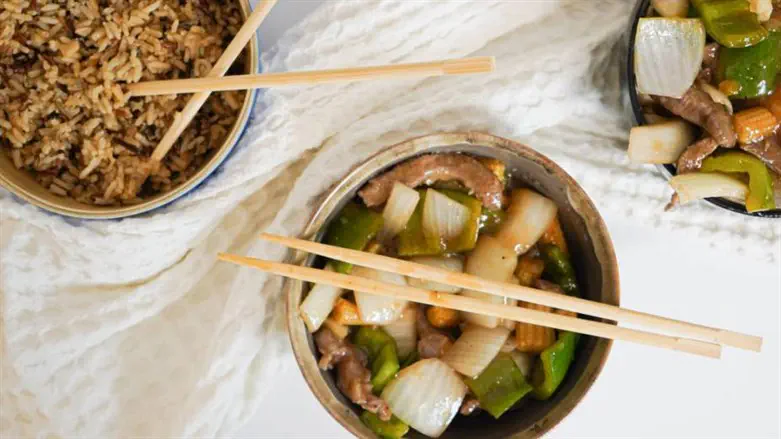 Sweet and Sour Pepper Steak
Menachem Goodman / Kosher.com
Ingredients:
Pepper Steak
3 pounds pepper steak
2 tablespoons cornstarch
2 teaspoons kosher salt
1/4 cup vegetable oil
1 green pepper, diced
1 (16-ounce) can baby corn, diced
1 medium Spanish onion, diced
Sauce
1/2 cup Gefen Duck Sauce
4 cubes Gefen Frozen Garlic
2 tablespoons soy sauce
2 tablespoons sugar
1 teaspoon sriracha sauce
1 teaspoon Worcestershire sauce
2 teaspoons white vinegar
1 teaspoon kosher salt
1/2 teaspoon black pepper
1/2 teaspoon chili powder
Prepare the Pepper Steak:
In a large bowl, add the pepper steak, cornstarch, and kosher salt. Mix well and set aside.
In a large frying pan over medium heat, add the oil. Once the oil is hot, add the meat mixture. Lower heat and allow to cook for five to 10 minutes, stirring occasionally.
Meanwhile, in a small bowl, add all the sauce ingredients and mix well. Set aside.
Once the meat is partially cooked, add the peppers, baby corn, and onions. Higher the heat and allow the vegetable to soften a drop, about five minutes.
Once the meat and vegetables are fully cooked, add the sauce. Cook for an additional two minutes until everything is combined. Remove from heat and serve fresh.
Sponsored by Gefen