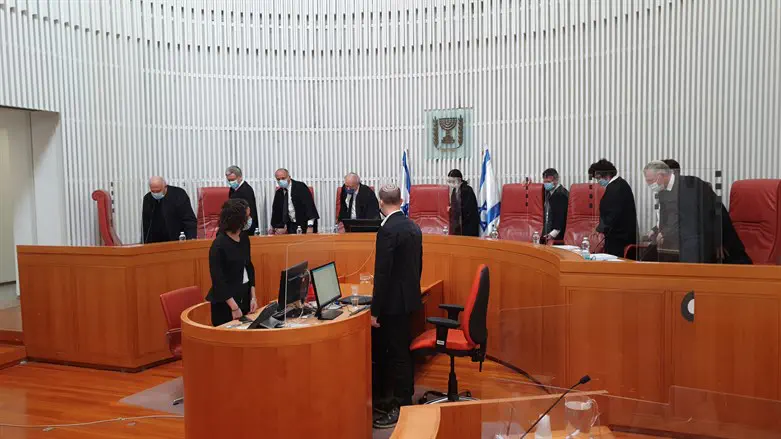 Supreme Court justices
Hezki Baruch
Israel's Supreme Court on Thursday ruled that the State of Israel may revoke the citizenship of individuals convicted of harming State security.
Among the crimes for which citizenship may be revoked are terror, espionage, and treason.
In its ruling, which is over 100 pages long, the Supreme Court justices accepted the State's appeal and ruled that the Interior Minister may revoke citizenship from terrorists. They emphasized, however, that the condition for revoking citizenship is that "following the revocation of Israeli citizenship, the person does not remain lacking any citizenship, and if he would not have any citizenship, as stated, he will receive license to reside in Israel."
The decision paves the way for the government to act on the much-discussed deterrent to terror.
Until now, Israel has refrained from revoking the Israeli citizenship of Israeli Arabs who carry out terror attacks.
In recent years, there has been a push to pass legislation on the matter, with MK Avi Dichter (Likud), a former Shabak chief, announcing last year his intentions of advancing a bill that would revoke Israeli citizenship for terrorists compensated by the Palestinian Authority for murdering Jews.
Around the same time, 42 MKs from most of the Knesset's parties signed a bill to strip terrorists of their Israeli citizenship or rights of residence in the Jewish state. Under that bill, an Israeli resident or citizen sentenced to prison for an act of terror while receiving payments from the Palestinian Authority would lose his citizenship or right to remain in Israel, and would be transferred to the Palestinian Authority.
The bill would allow the terrorist to regain his Israeli citizenship if he returns the funds to the Palestinian Authority.
Currently, Israelis can only lose their citizenship through a court order, and the Interior Minister submitting the request to the court must first receive permission from both the Shabak (Israel Security Agency) and the Attorney General.
Very few requests go through this complex bureaucratic process and it is very rare that a request is approved.
In May, Interior Minister Ayelet Shaked (Yamina) backed down from her intention of passing a law revoking the citizenship of terrorists. That bill, which had already been registered, was put aside after a conversation between her associates and the Ministry of Justice revealed that the law would not stand the test of the Supreme Court.