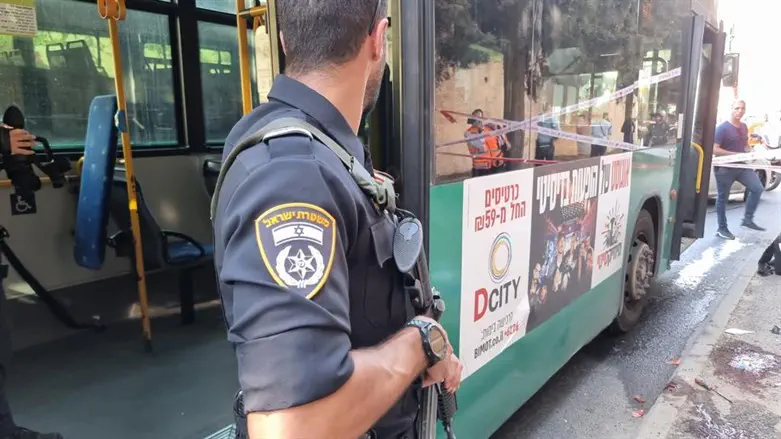 Scene of the Jerusalem stabbing attack
Israel Police spokesperson
Ynet photographer Meshi Ben Ami, who neutralized a terrorist in Jerusalem on Tuesday afternoon, recalled in a Yediot Aharonot article his feelings during the moments before he acted.
"In the afternoon, I picked up my three-year-old son and traveled with him for a fun day in central Jerusalem," Ben Ami said. "When we reached the junction where the incident happened, I noticed that something was happening on the bus in front of me. The doors opened, people ran out, and I saw a figure stabbing someone."
"I parked my car on the side, I left my child in it and I maintained eye contact with him. As I exited the car, I already understood that I was in the midst of a terror attack. During moments like these you feel like you are the emissary who has come to protect people. I understood that the State had given me the tools to handle events like these when I received my gun license.
"I parked my car on the side I left my child in it, and I maintained eye contact with him. The terrorist stabbed again and again, cruelly, the person who was in front of him. I yelled at him to stop and he came to me with the screwdriver to hurt me. I was worried, but when there was already a certain threat to my life, I shot him."
Ben Ami added, "This is the second time I have neutralized a terrorist. If someone has concerns about their personal security, maybe because of the place he lives in, I recommend that he undergo a weapons training course - legally, obviously - in order to protect himself."
זירת הפיגוע בירושלים
מגן דוד אדום