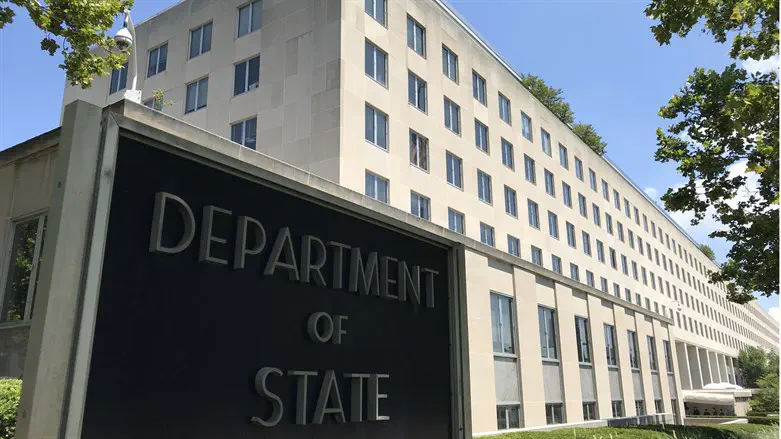 US State Department
iStock
The US State Department is urging countries that have not yet done so to blacklist the Hezbollah terrorist organization.
The call was made by State Department spokesperson Ned Price in a statement released on Monday, the anniversaries of the 1994 bombing of the AMIA Jewish community center in Buenos Aires, and the 2012 attack on a tour bus in Burgas, Bulgaria, carrying Israeli tourists. Both attacks were carried out by Hezbollah.
"The single deadliest antisemitic attack in more than half a century, the AMIA bombing underscored Hezbollah's global ambitions and is a clear example of Iran's support of international terrorism. High-level Iranian government officials were directly implicated in the attack, and Hezbollah carried it out at the direction of the Iranian regime. While no one responsible for the attack has been brought to justice, the United States believes all Argentines deserve to have those responsible held accountable for this despicable and cowardly attack," said Price.
"Eighteen years later, Hezbollah murdered five Israeli tourists and a Bulgarian bus driver in a bomb attack in Burgas, which also injured 45 Israeli youth traveling on the bus. While Bulgarian courts convicted two Hezbollah operatives in absentia in connection with the bombing, justice has yet to be served," he added.
"The United States is committed to countering Hezbollah and Iran's malign influence. The funding, training, weapons, and other support Iran provides Hezbollah support complex and heinous terrorist attacks like these. The callous murder of civilians must not stand," said Price.
"With our support, more than a dozen countries across Europe, South America, Central America, and the Pacific have issued national level designations, bans, or other restrictions against Hezbollah. We urge more countries to take similar measures, which make it harder for the group and its backers in Tehran to threaten peace and security around the globe," he concluded.
Several countries in the world have in recent years blacklisted all of Hezbollah.
In March of 2019, the British government designated Hezbollah as a terrorist organization. Last year, Britain's finance ministry added the entire Hezbollah organization to its list of terrorist groups subject to asset freezing.
In November of 2020, Slovenia joined the list of countries to blacklist Hezbollah as a terrorist organization.
Also that year, Germany issued a federal order outlawing Hezbollah in the country, and also took enforcement measures under the provisions of the order.
Last February, the Liguria Regional Council in Italy designated Hezbollah in its entirety as a terrorist organization.
Austria has amended its Symbols Act, which prohibits the use of the symbols of terrorist groups, and stipulated that all arms of Hezbollah are considered terrorist organizations.
This pasts November, Australia listed all of Hezbollah as a "terrorist organization", extending an existing ban on the group's military wing to the entire organization.
The European Union, meanwhile, only includes Hezbollah's military wing - and not its political wing - on its list of sanctioned terrorist organizations. There have been calls on the bloc over the years to amend its blacklist to include the entire group.