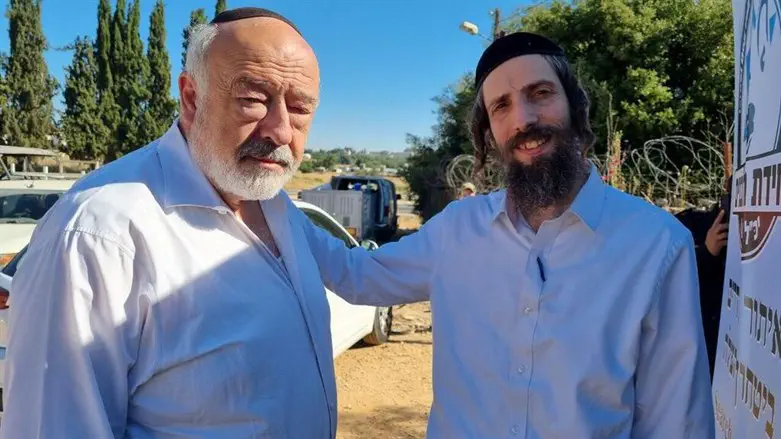 Aryeh Ilovitch (left) and Shmuel Kleinerman (right)
Shamir Elbaz
Search efforts continued today in the Meron area for any trace of Moishe Kleinerman, a sixteen-year-old teen from Modi'in Ilit who has been missing for more than four months. The searchers were joined today by two volunteers more motivated than the rest - Shmuel Kleinerman, Moishe's father, and Aryeh Ilovitch, whose son Moshe disappeared in the Meron area several years ago and likewise has yet to be found.
Ynet reports that Aryeh Ilovitch made a special trip from the USA to join the search. "I arrived in Tzfat on Sunday evening and I will be returning on Thursday. As soon as I heard about Moishe's case, I understood the connection between the cases," the father said.
He added that "we are here to give support to the Kleinerman family, and to do everything possible to find them both. We are together in this difficult state of affairs, enduring it together."

Shmuel Kleinerman, whose son Moishe has been missing since March 25, thanked the many volunteers who came for the search and said that "it is really exciting to see how everyone is mobilized for the cause, to find Moishe healthy and intact."
He also commented on the Ilovitch family's presence in the search, saying: "We want to combine forces because there are very similar characteristics in the disappearance stories of our two sons. We prayed together at the shrine of Rabbi Shimon bar Yochai for success, and are confident that, with God's help, we will be successful."
In a briefing for volunteers, the director of the Israel Dog Unit, a nonprofit specializing in search and rescue, exhorted volunteers to put exceptional effort into this search. "We must understand what happened, where they are. We need to get to every piece of evidence we can to solve this mystery. These two fathers - this search is there entire life now. They can think only about where their sons might be."

The nonprofit ZAKA, which joined one of the days of searching last week, commented: "We are at this stage looking only for a lead, not the missing person himself. Naturally, this is a very slow, long and difficult search, and I hope that at the end of the day we will be able to find some kind of lead to solve the mystery."
About two weeks ago, police released a young man arrested on suspicion of involvement in the kidnapping of Moishe Kleinerman. Details of the arrest, including the suspect's name, were forbidden to be publicized. Police later admitted that there had been no concrete progress in the investigation.

Moshe Ilovitch, like Moishe Kleinerman, disappeared during his visit to Mount Meron. He was last seen a few days before Lag B'Omer, on May 18, 2019, sleeping in a tent at the foot of the mountain. When called that Saturday night, he no longer answered his phone.