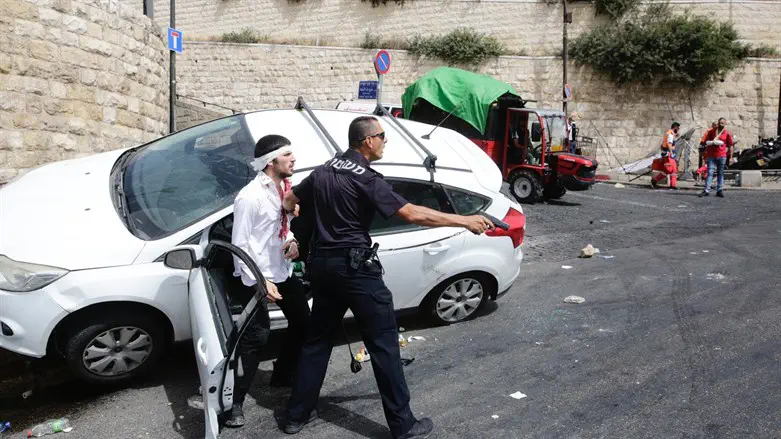 Police officer defending victim of near-lynch last year in Jerusalem
Shalev Shalom/TPS
A year after a near-lynch perpetrated on a Jewish man by a number of Arabs near Lions' Gate just outside the Old City of Jerusalem, one of the attackers is being brought before the Release Board of the Israel Prisons Service (IPS).
Efraim Shachor, the driver of the car who was viciously attacked, ordered his attorney, Chaim Bleicher of the Honenu rights organization, to communicate his opposition to the early release of his attacker, who, he says, will undoubtedly revert to his terrorist activities once freed from prison. Furthermore, the early release will constitute a reward for terrorism and is liable to encourage potential terrorists to engage in copycat attacks of their own.
"I am categorically opposed to the early release of this terrorist. This is an enemy agent who already at a young age has demonstrated anti-Semitism and attempted to murder three Jews simply because they are Jews living in the State of Israel," he said. "To this day, the terrorist has not recognized the existence of the State of Israel as a sovereign power and has not apologized to his victims. There is no doubt that he will resume his terrorist activities as soon as he is able to do so. The least that should be done is hold the prisoner behind bars until the last day [of his sentence]."
Criticizing the IPS, Shachor added, "The Release Board erred in even considering the early release, just as the Court erred in handing down such a ridiculous sentence and the Prosecution erred in failing to lodge an appeal. How can it be that a terrorist who perpetrated such a cruel attack is about to be released after just a year behind bars? I will also note that during the past year since the attack, a large number of buses have been attacked by terrorists throwing rocks right in the place where the original attack took place, and many of those buses were left with not a single window-pane intact. At least seven Jews have been injured in these attacks.
"There's no better proof of the fact that the punishment handed down did nothing to deter anyone," he continued, "than the fact that to this day, the terrrorist serves as inspiration for others to follow in his footsteps. This discussion of early release is a reward for terrorism. You have forgotten the simple truth of the Torah that a terrorist should be sentenced to death; enemies must be destroyed."
Attorney Bleicher added, "This is a terrorist who attempted to perpetrate a lynch and received an extremely lenient sentence, which harmed the principle of deterrence. Any attempt to secure an early release for the prisoner awards a prize to terrorism and strikes a heavy blow against the war on terrorism. We will continue to monitor the situation and do everything in our power to fight against terrorists and increase deterrence."
The attack concerned occurred a year ago, during Operation Guardian of the Walls, when the victim was driving his vehicle near the Old City of Jerusalem and faced a barrage of rocks which caused him to veer off the road. When he emerged from his vehicle, a group of Arabs surrounded him and began to attack him; he defended himself with his bare hands.
Three Arabs were originally detained for the crime; two were soon released and the third was sentenced to spend twenty months behind bars for crimes including attempted grievous assault with aggravating factors, throwing rocks, and causing injury due to nationalist motivations. The Prosecution protested the lenient sentence, demanding at least 30 months, but failed to appeal. It now appears that the defendant will be released after serving just one year.