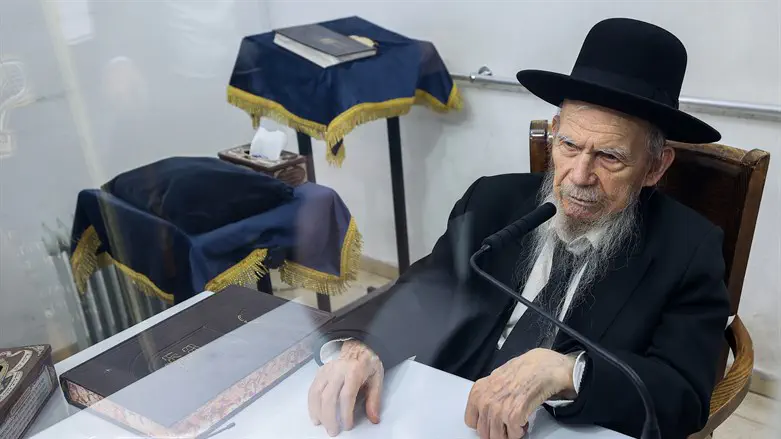 Rabbi Gershon Edelstein
Shlomi Cohen/Flash90
Rabbi Gershon Edelstein, 98, a leading Lithuanian-haredi rabbi and the dean of the Ponevezh Yeshiva, on Friday morning was diagnosed with coronavirus for a second time.
Sources close to Rabbi Edelstein report that he feels well and that he is continuing his daily schedule as usual. He will deliver his daily classes from his home.
MK Benjamin Netanyahu (Likud) wished Rabbi Edelstein a complete recovery, saying, "I pray together with the masses of the house of Israel for the healing of the Torah sage Rabbi Gershon Edelstein, who was diagnosed with coronavirus. G-d, please heal him."
MK Moshe Gafni, who heads the United Torah Judaism party's Degel Hatorah faction, spoke with Rabbi Edelstein on the phone. During their conversation, Rabbi Edelstein told Gafni that he feels "excellent" and is continuing his day as usual.
Israeli President Isaac Herzog called Gafni to ask how Rabbi Edelstein is faring, and said that the nation of Israel is praying for Rabbi Edelstein's full recovery. Gafni told Herzog, "The rabbi feels excellent, thank G-d," and thanked him for his concern and prayers.
Rabbi Edelstein's family has requested that the public pray for the recovery of Rabbi Yerachmiel Gershon, the son of Miriam.