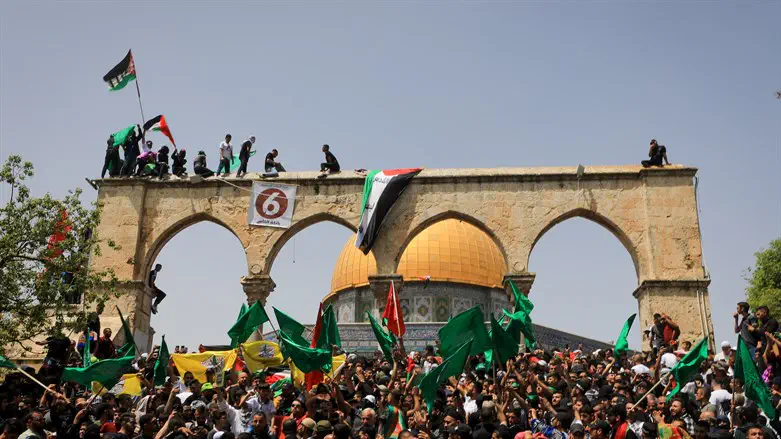 Riots on the Temple Mount
Jamal Awad/Flash90
Sheikh Ikharma Sabari, who heads the Supreme Muslim Council of "Palestine" and gives sermons at Al Aqsa Mosque, has warned that "those extremists loyal to the Temple Mount" intend to "break into Al Aqsa Mosque" on Sunday.
Sunday marks the 17th day of the Jewish month of Tamuz, which is one of four fast days commemorating the destruction of the Holy Temples, which were built on the Temple Mount before Islam was founded.
Speaking with Falastin al-Youm, a news site identified with the Islamic Jihad terror group, Sabari said that the planned "break-in" to the mosque is intended to desecrate the space which is holy to Muslims, and that it is just part of the efforts to "Judaize" the Temple Mount, including by means of archaeological digging.
In reality, the Arabs have been digging illegally on the Temple Mount for decades, working to destroy all remaining evidence of an ancient Jewish presence at the site.
According to Sabari, the silence by the international Arab community regarding what is happening on the Temple Mount "encourages" the "extremists" to declare boldly the time of the "break-in" to Al Aqsa, with the knowledge that no one will act to protect the place, which was the first direction of prayer for Islam.
He added that the repeated "break-ins" to Al Aqsa's property encourages the immigration of Jews to "Palestine."".
Along with his repetition of the message claiming that Al Aqsa is "in danger," Sabari called on Muslims to visit the Al Aqsa in order to protect it from Jews' visits to the site.