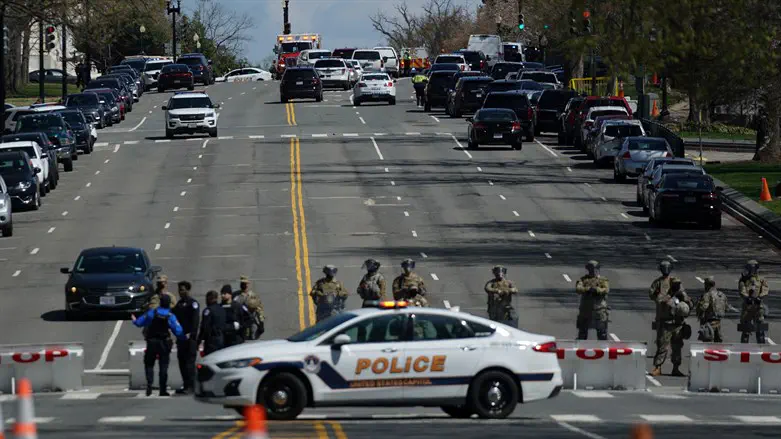 US law enforcement officers surround US Capitol following security incident
Reuters
The US House committee investigating the January 6 riots at the US Capitol plans to hold a primetime hearing on Thursday, AFP reported on Friday.
The televised public hearing, the committee's eighth, will take place at 8:00 p.m. Washington time. The committee's opening hearing was also held in primetime, when television audiences are largest.
Committee members have said the session is expected to focus on former President Donald Trump's actions on January 6, 2021, when thousands of his supporters stormed Congress in a bid to prevent certification of the results of the November 2020 election won by Joe Biden.
"You will hear that Donald Trump never picked up the phone that day to order his administration to help," Representative Liz Cheney, a Republican member of the committee, said at the last hearing.
"For multiple hours, Donald Trump refused to intervene to stop it," Cheney added.
In a hearing earlier this week, the members of the panel accused Trump of inciting a mob of followers to attack the US Capitol on Jan. 6, 2021, in a last-ditch bid to remain in power.
The House of Representatives committee probing the Capitol riot also produced evidence that aides and outside agitators knew before the riot that Trump would urge thousands of his supporters to march on the Capitol that day.
In video testimony shown during the hearing, witnesses described a loud late-night six-hour meeting on Dec. 18, 2020, where Trump disregarded White House staffers who urged him to concede the November 2020 election to Biden.
The US House of Representatives passed a bill last May to form a commission to probe the January 6, 2021 attack on the Capitol. The bill was approved in a 252-175 vote, with 35 Republicans joining all Democrats in support.
Two days later, however, Senate Republicans blocked the legislation. Senators voted 54-35 on the House-passed bill, falling short of the 10 GOP votes needed to get it over an initial hurdle.
Without any pathway forward in the Senate, House Speaker Nancy Pelosi announced she would use her power to pursue a select committee in the House that will be controlled by Democrats, leading to the formation of the current panel.
Trump denies wrongdoing and has rejected the legitimacy of the committee.
(Israel National News' North American desk is keeping you updated until the start of Shabbat in New York. The time posted automatically on all Israel National News articles, however, is Israeli time.)