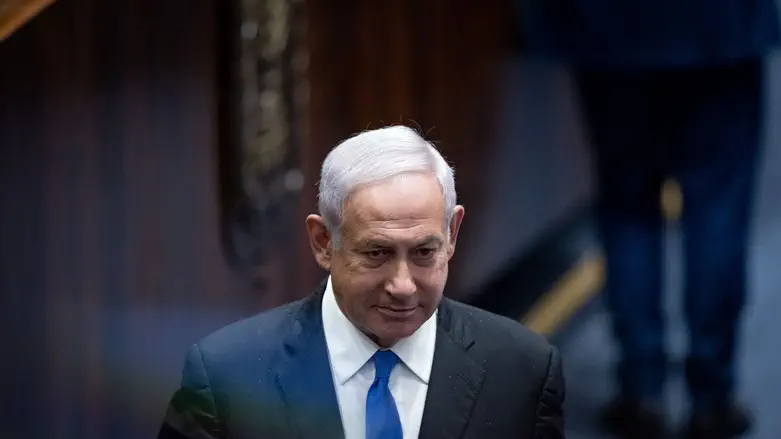 Benjamin Netanyahu
Yonatan Sindel/Flash90
A new poll published Friday morning by Maariv showed that a union between Derech Eretz and Yamina would help the right-religious bloc pass the 61-MK threshold.
The poll, conducted by Panels Politics, also showed that the union between New Hope and Blue and White would bring the united list 13 Knesset seats.
According to the poll, the Likud party would win 36 Knesset seats, followed by Yesh Atid, which would win 24.
Blue and White and New Hope, running together, would be the third-largest party, with 13 seats, followed by Religious Zionism, which would win 10 seats.
Sephardic-haredi Shas is projected to win eight seats, while Ashkenazic-haredi United Torah Judaism is expected to win seven seats. Labor, Yisrael Beytenu, and the Joint Arab List would win six seats each.
The United Arab List (Ra'am) would be the smallest party, with just four Knesset seats - barely passing the electoral threshold.
Yamina would still fail to cross the electoral threshold, gaining just 2.2% of the votes. Left-wing Meretz would also fail to pass the threshold, gaining just 2.5%.
In this poll, the Likud-led bloc would win 61 seats, and the current coalition parties would win 53 seats. The remaining six seats belong to the Joint Arab List, which traditionally does not join any coalition.
However, if Yamina joined together with the Derech Eretz party - which last year ran together with New Hope - it would win four Knesset seats, bringing it above the electoral threshold and into the Knesset.
In that scenario, the Blue and White-New Hope list would lose one seat, dropping from 13 to 12, and Yesh Atid would drop similarly, from 24 to 23. Religious Zionism would also lose a seat, falling from 10 to a projected nine.
Divided into blocs, the Likud-led bloc would win 60 Knesset seats, while the bloc supporting Yesh Atid would win 50. Kingmaker Yamina-Derech Eretz would win four Knesset seats, and the Joint Arab List holds the other six.