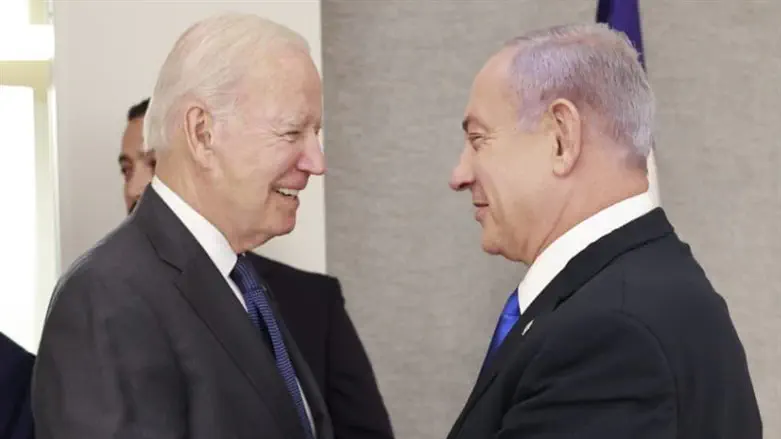 Netanyahu meets with Biden
Raanan Cohen
Israeli Opposition Leader and former Prime Minister Benjamin Netanyahu met with President Joe Biden Thursday afternoon.
The two leaders spoke for approximately twenty minutes.
In a briefing with reporters after the meeting, Netanyahu said that he had expressed his appreciation for Biden's support of Israel, highlighting the supplemental spending for Israel's Iron Dome missile defense system, which was included in last year's omnibus spending plan.
"I had a warm, wonderful meeting now with President Joe Biden. I thanked him for the deep personal friendship between us, and on his steadfast support for Israel, and also for the fact that when I asked for extra funding for the Iron Dome system during the last war in Gaza, he came through and did it. It wasn't easy."
Netanyahu also urged President Biden to keep the "military option" on the table vis-à-vis Iran's nuclear program, arguing that without the possibility of a strike on Iranian nuclear facilities, Tehran will not be deterred from its plans to achieve a nuclear weapon capacity.
"Economic sanctions aren't enough, nor are military defense preparations against Iran. There must be an option for a military strike on Iran. I think that the [nuclear] deal is terrible, I told him so, but I think that without a reliable military option, it is not possible to deter Iran."