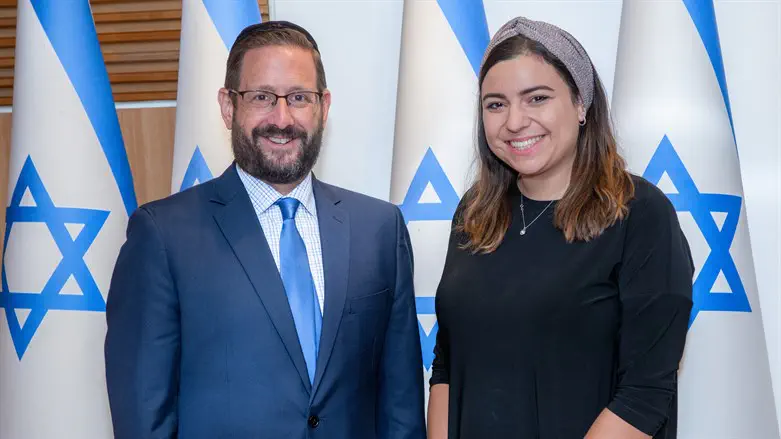 Dov Lipman with Ayala Laub Waltuch
Yad L'Olim
The Shira Pransky Project, an organization that has educated and assisted tens of thousands of Olim to navigate the Israeli healthcare system, is becoming part of Yad L'Olim, the NGO founded by former MK Dov Lipman.
The new Healthcare Division of Yad L'Olim's Absorption Department in memory of Shira Pransky will continue to provide and expand the services that had been provided by the Shira Pransky Project for the past decade.
The Shira Pransky Project was established in memory of Shira Pransky z"l, an olah who passed away at the age of 26 after a ten year battle with Hodgkin's Lymphoma. Shira's husband, Gabe Pransky, recognized that the family had been ignorant of rights, benefits, and support that could have eased the family's burden during her illness. This led to establishing an organization in Shira's memory, educating and assisting immigrants to understand and access their healthcare rights and benefits, and how to navigate Israel's complex healthcare system. This is done through English language resources, educational programs and workshops, and individual guidance and assistance.
Ayala Laub Waltuch, who has served as Director of the Shira Pransky Project is now Director of Programs & Organizational Development for Yad L'Olim, and Leora Seidman who had been the SPP Senior Healthcare Advisor is now Yad L'Olim's Senior Healthcare Absorption Specialist.They are available to answer questions about Israeli healthcare for Olim from around the world via the Yad L'Olim website.
Hundreds of pages of information about the Israeli healthcare system can now be found on the Yad L'Olim website (www.yadlolim.org) and Yad L'Olim will add the popular crowdsourcing Facebook group "Navigate the Israeli Healthcare System" to its social media channels.
Former MK Dov Lipman, Founder and CEO of Yad L'Olim: "I am thrilled about the establishment of the new Healthcare Division in memory of Shira Pransky as part of Yad L'Olim's Absorption Department. This is an important piece of Yad L'Olim's continuing expansion and advancement to meet the needs of Olim from all around the world. The combination of community education and individual oleh assistance that Ayala and her staff have been providing for years matches perfectly with Yad L'Olim's mission and experience. It is also an honor for everyone at Yad L'Olim to be paying tribute and memorial to Shira Pransky through the work that we will be doing in this field."
Ayala Laub Waltuch, Director of Programs & Organizational Development : "I am so excited about me and the SPP staff becoming a part of Yad L'Olim. After working closely with Dov and YLO over the past year, it became obvious that we share the same mission and values, and that together we can provide even more support for a greater number of Olim in Shira's z"l memory. I am immensely proud of what The Shira Pransky Project has accomplished over the last decade as leaders in our community creating models of information access, educational resources, and individual assistance. I look forward to continuing to grow our critical and successful programs as part of the team at Yad L'Olim."