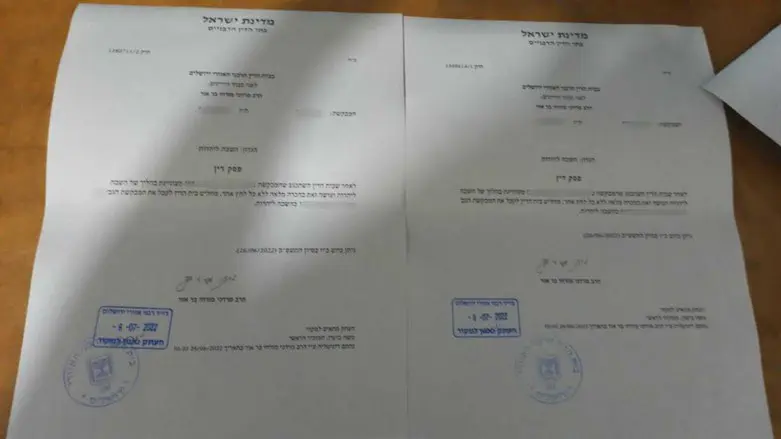 The letters from the Rabbinical Court
Yad L'achim
Three women, daughters of a Jewish mother and an Arab father, returned to Judaism in a moving, unprecedented ceremony in the Jerusalem Rabbinical Court.
The three were born in an Arab village in the Jerusalem area where they were raised as Muslims. At the ages of 14, 12 and 10, respectively, they were rescued together with their mother by Yad L'Achim, after the mother endured severe violence at the hands of her Arab husband.
The mother wasted no time in undergoing a "Return to Judaism" ceremony, but her daughters, being under the age of 18, needed their father's permission, which he refused to grant.
Nonetheless, they were raised with Jewish tradition and accompanied by Yad L'Achim mentors who helped them fill in huge gaps in their knowledge of Judaism.
Over the years, the three began studying medicine. Two became doctors, while the third is completing her medical studies in Italy.
From time to time, a Yad L'Achim's social worker, who is close with their mother, urged the daughters to complete the formal process of returning to Judaism but they were too caught up with their medical studies and, besides, saw no need for it since they were anyway living as traditional Jews.
Recently, when one of them decided to marry and set up a Jewish home, she realized that this was impossible as she was still registered as a Muslim in the Interior Ministry. At this point, she decided to undergo the ceremony and suggested that her sisters join her at the Rabbinic Court.
Yad L'Achim made an appointment for them at the Regional Rabbinical Court in Jerusalem, and the sister in Italy made a 24-hour visit to Israel to join her siblings in closing an important circle in their lives.
A senior Yad L'Achim official observed: "Every year we return to Judaism dozens of girls who converted to Islam or who were born as Muslims in Arab villages, but three sisters undergoing the ceremony at the same times is rare, even by our standards.
"Our continued involvement with the family, since the rescue, has helped them build their lives – as Jews and as doctors.
"The public's support of our efforts in the return of Jewish captives, the partnership, has been critical," said Yad L'Achim's official website.