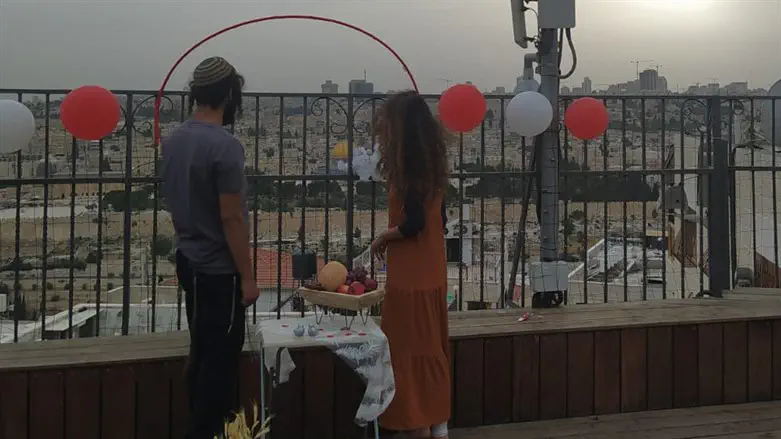 the couple shortly before the attack
picture used with permission of photographer
The last two defendants in the assault on a Jewish couple in Jerusalem just as they became engaged last year have been convicted.
A total of five terrorists were convicted of assaulting the couple Avihai and Shahar Antman, including one minor and two adults, all of whom are awaiting sentencing following their convictions,
The assailants stabbed the young man and tried to lynch him - shortly after he proposed to the young woman who is now his wife at a popular couple's spot in the eastern part of Jerusalem.
The knife penetrated the victim's lung. During the attack, his fiancée escaped and hid from the attackers, and only when the wounded young man managed to reach the police on his own did police arrive to rescue the woman.
Attorney Haim Bleicher of the Honenu legal organization responded to the convictions: "The conviction of the two terrorists, which joins the conviction of the other three terrorists, ends a long saga. Initially, the lynching attack was not investigated at all, due to the frequency of attacks that occurred at that time, but due to pressure from the victims of the hostile act and repeated approaches to the authorities and the media through Honenu's hate-crime department - the incident began to be investigated. Following the investigation, which was carried out by the Special Duties Department of the Jerusalem Special Police Unit, a number of terrorists were arrested, some of whom linked themselves to many other attacks."
During the trial, the wife testified that the attack right after the couple became engaged had forever marred the happiest moment of their lives. "This moment, instead of being remembered forever as the happiest moment of our lives, will be remembered as a traumatic event."