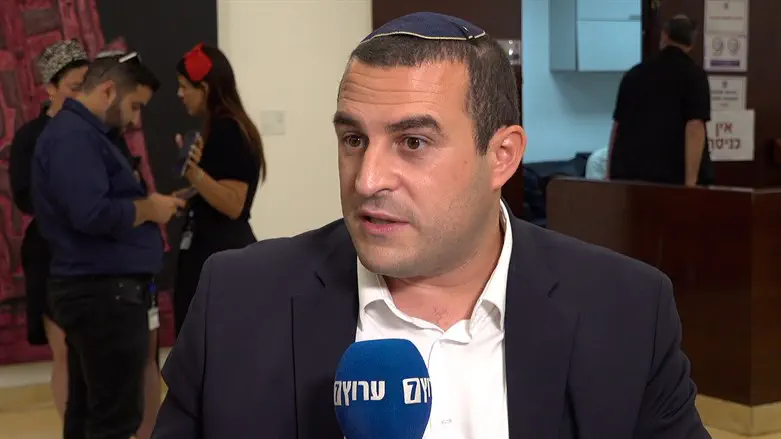 Yomtob Kalfon
Israel National News
Former MK Yomtob Kalfon from Yamina arrived at the Knesset on Wednesday as it voted in a preliminary reading on a bill to dissolve it.
Kalfon, who was removed from the Yamina slate after Religious Services Minister Matan Kahana resigned from his ministerial post and returned to the Knesset as a regular MK, spoke to Israel National News and commented on the current political situation.
"I personally think it is a pity [that the Knesset is dissolving]. This has always been my position, even before the vote. I think it was the most right-wing Knesset since the establishment of the state, with over 72 right-wing Knesset members and I am not sure the next Knesset will be more right-wing," he said.
Asked whether it is possible to form an alternative government with those right-wing MKs, Kalfon replied, "My position and that of Yamina has always been that if it is possible to form a right-wing government, go for it, but unfortunately there is no such government. That is a pity, even though there are efforts in this direction. We will see if they succeed."
Kalfon said he agrees with the feeling that if the haredim had entered the coalition, it would have produced a much more stable reality. He himself claimed this from the start of the term of the current coalition. "They themselves did not want to. I did not believe the stories about vetoes in the coalition. Any member of a narrow coalition of 61, certainly with this ideological composition, would have wanted to expand it at any cost," he stated.
Regarding the future of the Yamina party, Kalfon said, "It is clear that in an election campaign the political frameworks are updated and often changed. We will see what the frameworks will be. No one knows at the moment."
In his opinion, there is a political space between the Likud, Religious Zionism and the haredim, and these voters need a political home. "I think there is a place for a right-wing party that is not like the others. There is a public that needs it and otherwise they will not go out to vote, or they will vote for the center-left and that would be a shame."
"I want to continue to be a part of this in order to represent an ideological right-wing public that supports settlement in Judea and Samaria and immigration and absorption, an issue that is critical for the future of the state to ensure a solid Jewish majority in Israel. The issue of the Temple Mount is also close to my heart and there are not enough people dealing with this issue."
Kalfon would not elaborate on what is happening in the Prime Minister's Office, which he visited on Wednesday. "It is natural that there are consultations on days like this. What I told him is what I tell everyone, there is an important public of Olim who need representation and there are positions in the Knesset that need to be heard and these are right-wing positions and I think I fit those positions. I am a lobbyist for the land of Israel and for the Olim."
Hebrew video