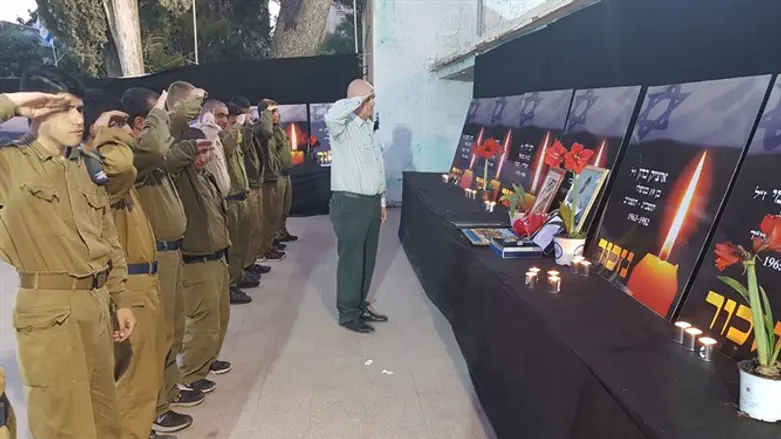 Remembering special needs victims of the Holocaust
On Holocaust Remembrance Day in Israel, the atmosphere is that of an entire nation in mourning. We give survivors the platform and recognition that they rightfully deserve. Televised and public ceremonies uplift the voices of those who endured unimaginable horrors, as survivors tell their stories. We stand for a siren and minute of silence, reflecting on the millions whose lives were stolen so brutally. United in grief, we mourn those who were lost, whether they were our blood relatives or simply fellow Jews. 
But on this Holocaust Remembrance Day, I ask you to also remember those whose voices have been lost forever - the special needs victims of the Nazis, whose murders set the stage for the Final Solution. 
Nazi exterminations of undesirables began with persecution and the medically sanctioned murder of people living with disabilities, euphemistically referred to as euthanasia. Starting in 1939, the Third Reich rounded up approximately 250,000 people living with disabilities, telling their families they were being taken for advanced care. 
No distinction was made between those who were blind, deaf, developmentally and/or physically disabled, non-neurotypical, or chronically ill - what mattered is that they were less than perfect, and therefore, "useless eaters" burdening Nazi Germany. The families of these victims were told that they had died of pneumonia or other natural causes, and that their bodies were cremated to prevent the spread of disease.
The murder of people with disabilities essentially served as the "warm up" for the Final Solution. 

This initial project was a test. The Nazis gauged the reaction of wider society, waiting to see if there would be a public outcry after hundreds of thousands of people disappeared. When the Nazis understood they could carry out a mass murder campaign without protest, plans for exterminations of Jews commenced. The murder of people with disabilities essentially served as the "warm up" for the Final Solution. 
As a haredi rabbi, the Founder of an organization that serves people living with disabilities and their families, and the father to two children with special needs, Holocaust Remembrance Day is a personal and painful day for me. As a Jew, I mourn the devastating blow to Am Israel, the massive loss of life, the destruction of thousands of years of Jewish life and Torah study in Europe. I think about the trauma that those who survived carry with them, the effects of which are still felt today by their families and all of the Jewish nation. 
From the perspective of a father, I cannot begin to contemplate the pain of the survivors who lost their children to Nazi brutality, sometimes right in front of their eyes. And as an advocate for special needs people, I shudder to think how eliminating those with special needs was viewed as the first step to building a perfect society.
A perfect society is not one free of people with special needs; rather, it's one where people with special needs are included and integrated into the mainstream.
People with special needs have much to contribute to the world around them. They are hardworking, funny, warm, and witty. They are loved and cherished by their families and friends. They volunteer, pray, and bring joy to those around them. They are important and valued members of their communities. They are humans deserving of life, like you and me.
May their memory forever be a blessing.
Rabbi Chaim Perkal is the Director and Founder of Alei Siach, a Jerusalem-based nonprofit organization providing all-inclusive solutions for people living with special needs and their families.