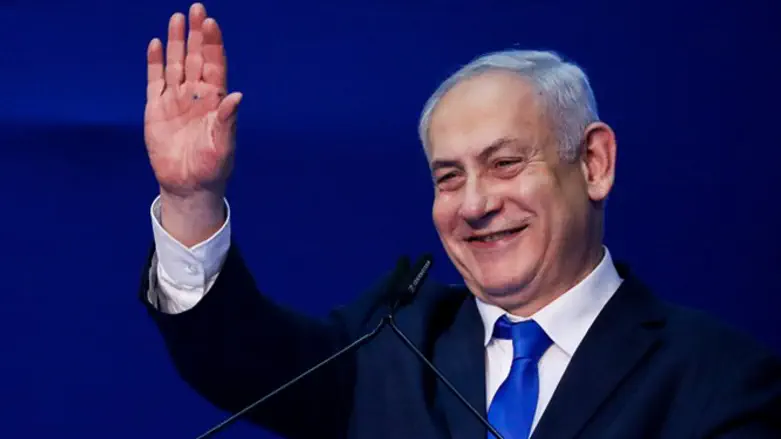 We can breathe again?
Cool-hand Bibi…the can-do kid from Cheltenham, Pa…pulled it off, and this time rather convincingly for another term as prime minister of Israel.
Plus, with the win, a fourth round at the polls seems to have been avoided, and some form of stability (allowances for Israeli politics) has been re-stablished.
Coalitions still needs to be stitched together for those 61-plus seats in the Knesset…but those are details.
Was there ever a doubt? You bet. Nothing is for sure until the fat lady sings, and on Monday she sang beautifully.
Especially for those who liked the promises he kept on prosperity …and the promises he made to the Sovereignty Movement.
We shall see.
Certainly, Nationalist/Torah Zionist Israelis will be watching. 
We already know what the media have been saying, and will be saying, that it's goodbye "peace process."
Someone needs to tell CNN, and the BBC, and The New York Times, and Haaretz, that Netanyahu did not start the conflict, nor can he, nor anybody, end it overnight, nor even over this century. It's been going on this way with Amalek for more than 3,000 years – so don't hold your breath.
So far as a two-state solution as part of any deal, if he's as cool as we think he is, he'll dump it gradually for the insult that it is against the Land promised to us, not them.
Like "America First" for Trump, "Israel First" for Netanyahu, or so it is to be expected from his Right-Wing government. 

He's been given a mandate to do what's Right for the Jewish State, not the "international community," the community the Left turns to first.

Like "America First" for Trump, "Israel First" for Netanyahu, or so it is to be expected from his Right-Wing government. 

He could use that phrasing, when pressured, as a reminder that Israel likewise has priorities.

Top of the list, it is good to know that Israel remains fully "Jewish." But it was touch-and-go for some time.

Dear voters, you had us scared for a while. There was talk, from Leftist side, that they were prepared to take out the word "Jewish" from the Nationality Law that the Netanyahu government had put in. This we did not need to hear. So disturbing, something like this, to those of us who are warriors for Israel…and use both guns and pens in combat. 

What is Israel if not Jewish? 

Should he go ahead with a sovereignty program, as he has promised, there will be howling from the usual suspects, but he has shown himself to be resilient and unflappable.

He will go so far so as he can without rocking the boat. Never will he make everyone happy. That goes for any leader. Certainly, an Israeli leader. As we wrote earlier, "He's had to navigate through a world that watches every step he makes, so every move must be made with the entire world in mind. No other world leader is trapped like this."

(We need to forget, at this time, his weaknesses…such as the building freezes, Gaza, and his capitulation regarding Hevron. Later.)

He has a friend in President Trump, which is to the benefit of both our nations. Israel is America's battleship in the region.

Also, this…he has been a lucky leader. A terrible thirst was quenched. Under his feet, oil was found.

The final thoughts of Psalm 23 come to mind.

New York-based bestselling American novelist Jack Engelhard writes regularly for Arutz Sheva.

He wrote the worldwide book-to-movie bestseller "Indecent Proposal," and the authoritative newsroom epic, "The Bathsheba Deadline," followed by his coming-of-age classics, "The Girls of Cincinnati," and, the Holocaust-to-Montreal memoir, "Escape from Mount Moriah," for which contemporaries have hailed him "The last Hemingway, a writer without peer, and the conscience of us all." Website: www.jackengelhard.com