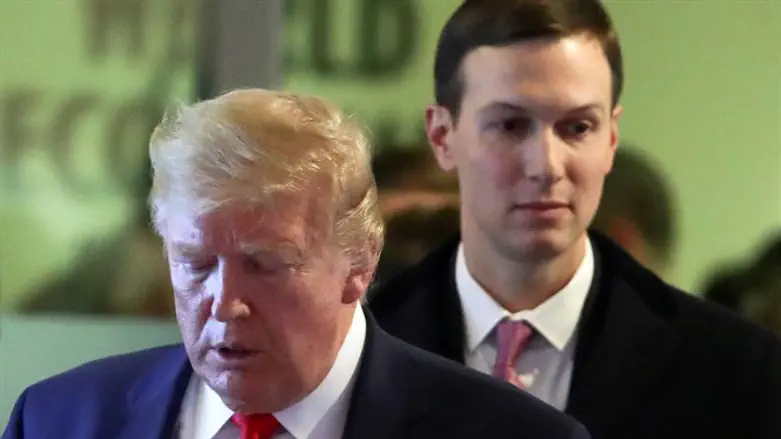 The Right is divided on Trump's Deal, leaving the field to the left
The right is divided about Trump's plan and, as Lincoln famously said, "a house divided against itself cannot stand."
On one hand there is Netanyahu's camp that supports the Trump plan, and on the other hand there are those who claim that the Palestinians already have a State in Jordan and oppose the creation of another Arab State in Judea and Samaria.
"President Trump's now released deal of the century – calling for the creation of a second Arab state in former Palestine in addition to Jordan ("the two-state solution") – has predictably already been consigned to the dustbin of history by PLO President Mahmoud Abbas on the day of its publication...Trump ignores that the "Palestinians" right to self-determination was realized when all West Bank Arabs became citizens of Jordan between 1950 and 1967 – then continued to retain their Jordanian citizenship until revoked by Jordan in 1988...
"The 'Palestinians' do have a state – now called Jordan – created in 78% of former Palestine in 1946.

"The key to successfully ending this 100 years unresolved conflict requires Jordan's borders to be extended to incorporate those areas designated as A Future State of Palestine in Trump's already-defunct proposal.
"President Trump needs to go back to the drawing board and persuade Israel and Jordan to urgently negotiate those new borders..."
The Right's division on  Trump's Plan weakens it.  It is vitally important for the Right to stay united and speak with one voice.
Take the good from Trump's plan and embrace it. It is important to remember that Trump's plan only endorses a Palestinian State under certain conditions that the Palestinians reject. 
Martin Sherman explained on Arutz 7:
For although the "Deal" does trace a path to eventual Palestinian statehood on about 70% of Judea-Samaria, including significant portions of Area C, currently under sole Israeli control, this depends on the Palestinian-Arab side complying with several significant provisos over a period of four years.
"Among others, these include:

- Recognizing Israel as the nation-state of the Jewish people
- Ceasing the funding of terrorists and their families
- Ending Judeophobic incitement
- Disarming Hamas and Islamic Jihad
- Establishing an orderly civil society by eradicating corruption, respecting human rights and permitting a free press

"Only after these conditions are met, will the US recognize a Palestinian state..."
Head of Samaria Regional Council, Yossi Dagan, went so far as to fight the idea of a Palestinian Arab state even being in the plan, although the four year trial conditions make it a hypothetical construct and a no-brainer, while applying sovereignty is in the near future. He is convincing ministers to vote against it in its present form and to apply sovereignty without US approval of the timing..
While the right weakens itself with internal disputes and lets the opportunity to apply sovereignty pass, the left and the Arabs are united rallying the international community against Trump's plan.
On January 31, 2020 the Independent published a letter by Ilan Baruch's far left group calling themselves "Prominent Israelis" who call Trump's peace plan "apartheid plan" and "call on Europe to reject Trump's plan"
They wrote: "As prominent Israelis dedicated to peace, we oppose Trump's apartheid plan...This is a Bantustan plan, caging the Palestinians into pockets of land controlled by Israel. Trump and Netanyahu are acting as two wolves negotiating how to eat a sheep...We call on Europe to reject Trump's plan..."
Signatures:
Ilan Baruch, former Israeli ambassador to South Africa, Namibia, Botswana and Zimbabwe
Professor Eli Bar Navi, former Israeli ambassador to France
Professor ​Michael Ben-Yair, former attorney general of Israel and former acting Supreme Court judge
Avraham Burg, former speaker of knesset and head of the Jewish Agency
Zehava Galon, former member of knesset and former chair of Meretz Party
Professor David Harel, vice president of the Israel Academy of Sciences and Humanities, Israel Prize recipient (2004), EMET Prize recipient (2010)
Professor Moty Heiblum, EMET Prize recipient (2014), member of the Israel Academy of Sciences and Humanities 
Miki Kratsman, EMET Prize recipient (2011) 
Alex Levac, Israel Prize recipient (2005)
Dr Alon Liel, former director general of the Ministry of Foreign Affairs, former ambassador to South Africa and Turkey
Mossi Raz, former member of knesset 
Michal Rozin, former member of knesset
Professor David Shulman, Israel Prize recipient (2016) and EMET Prize recipient (2010)  
Professor Zeev Sternhell, Israel Prize recipient (2008)"
The Second Holy Temple was destroyed because of divisions among the Jews, the Arabs will only be able to win if the Jews are divided. The right must remain united to defend Israel.
Ezequiel Doiny is author of Obama's assault on Jerusalem's Western Wall"