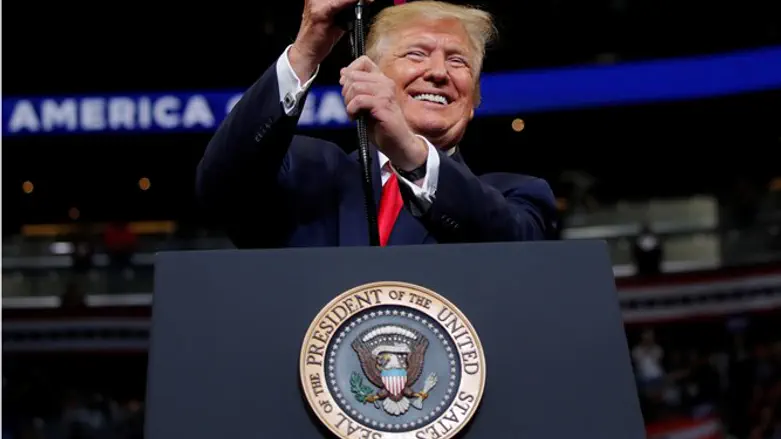 What color is anti-Semitism?
They are women and they are "women of color," so that finishes the argument in their favor, no matter what they say – according to our New Culture.
Answer them back when they go off against Israel and instantly you are "racist." You've been profiled and they've been exempted.
Mostly we're talking about AOC, Ilhan Omar, Rashida Tlaib and Ayanna Pressley, but it doesn't end there, not anymore.
The culture police now insist that we all be identified through race and gender, and it is already happening all over, and it probably started with those Four Ingrates.
They are the ones who introduced a New Wave, and it runs like this -- They can. You can't. Catchy, no?
Trump calls them out for their anti-Americanism and anti-Semitism and straight they go rushing to their corners, where they can't be touched, because they are privileged through race and gender. They can. You can't, on any topic, and what a perfect world of impunity they have carved out for themselves.
In The New York Times, it goes like this – "Trump once again targets four lawmakers who are women of color."
What's color got to do with it when their anti-Semitism is in plain sight?

So that's it, then, nothing about them being so perverse. No chance of that at all. It must be their "color."

No chance at all that they are simply overly-indulged spoiled brats.

Notice when he attacks Biden or Bernie or Schumer or Pelosi, their colors are not mentioned.  For example, "Trump shows nothing but contempt for Jerry Nadler… a white congressman." Never will you read or hear anything like that! White, then, is not a color… and masculine is not a gender, either….at least in the language of politics. 

For nowhere do you read that Trump is being picked on solely because he is a man, whereas, say, Elizabeth Warren will make ear-splitting speeches to assert that she is being targeted for being a woman. Warren, indeed, is a special case. For some time, she was "a woman of color," and now, presto, she isn't…now that she's been forced to come clean about her heritage. 

No Cherokee bloodlines…but, unless there are further disclosures, she is still a woman…so she is still safe…and watch what you say. You are being monitored.

On Trump Derangement, du jour…

Howard Kurtz, on his Sunday show at Fox News, made sure to mention that Elijah Cummings of Maryland is a "minority" member of Congress, and that's what Trump is attacking, his race.

That's the message.

Cummings, whose Baltimore district is partly a Third World eyesore (Bernie said so himself), has been hotly antagonistic against Trump, but he can say what he wants. Trump can't, according to the New Culture. The AP, among others, has it like this: "Donald Trump steps up attack on black lawmaker."

No! The feud began when Cummings attacked Trump for the situation at the border. Trump then shot back that Cummings ought to be more concerned with the situation on his own turf, where through corruption and neglect, Cummings' district is rife with rats, lawlessness, robbery and a murder rate that is second highest in the country, after St. Louis.

What's color got to do with it? 

So too the Four Ingrates. 

What's color got to do with it when their anti-Semitism is in plain sight?

It is the content of their character that points the finger back at them as bigots. These media darlings rate our immediate attention for the dangers they present for Jews everywhere. 

We've met these types throughout our history and they are never to be presumed harmless, or taken lightly. We know how it begins.

We need to fight this, again, again, and again.

New York-based bestselling American novelist Jack Engelhard writes regularly for Arutz Sheva.

He is the author of the international book-to-movie bestseller "Indecent Proposal." His Holocaust to Montreal memoir "Escape from Mount Moriah" has been honored from page to screen at CANNES. His Inside Journalism thriller, "The Bathsheba Deadline," is being prepared for the movies. Contemporaries have hailed him "The last Hemingway, a writer without peer, and the conscience of us all." Website: www.jackengelhard.com