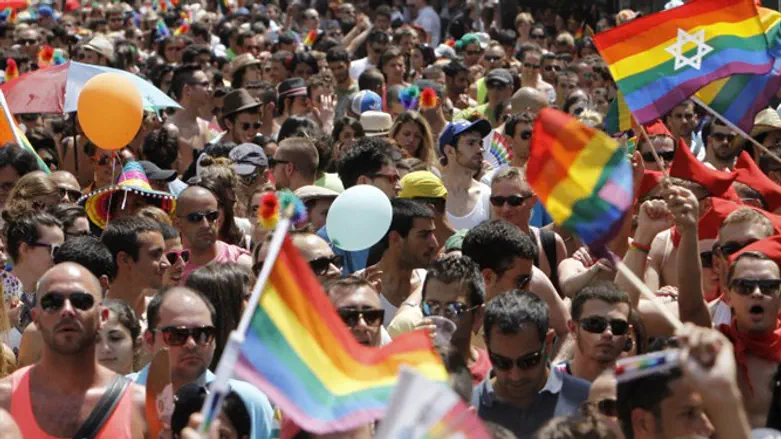 An eminent historian predicts a 'Gay Holocaust'
It has already begun. In the very citadel of the West
On the fiftieth anniversary of Stonewall riots an Israeli historian Yuval Harari gave an interview to The Guardian, in which he warned that 21th century could be the Gay Holocaust. Harari is known as the author of popular bestsellers and as a guru for progressives. In his opinion, the main threat to the LGBT community comes from countries where they, having obtained the desired freedom, have turned into scapegoats: in Eastern Europe, most of all, Poland, Hungary, and also Russia. 
This assertion is the evidence of how deeply prostrated and divorced from reality those people are. Even such obvious and shocking things as the Orlando massacre were not able to make them look at the world realistically. 

Such an assertion is not something new. Although it is interesting that it is being repeated by one of the most talented and outstanding representatives of the Western elite. It is the evidence of how deeply prostrated and divorced from reality those people are. Even such obvious and shocking things as the Orlando massacre were not able to make them look at the world realistically. 

So - nationalists, racists, homophobes. Poland, Hungary, Russia ...

A Google search for "Attacks on homosexuals in Poland / Hungary / Russia" leads us to a lot of articles about the supposed hatred to gays incited by authorities of those countries. Like Harari did, they remind readers about the Russian gay propaganda law and have frightening headlines, as for example: Hungary and Poland: EU capitals of homophobia, Viktor Orbán's anti-Enlightenment discourse and nationalism stir homophobia in Hungary,

How Poland's attacks on LGBT rights strengthened the Polish LGBT movement, Poland's Populists Pick a New Top Enemy: Gay People, 'There shouldn't be any gays or deviations': Polish towns go LGBT free.

Haaretzalso completed the list of homophobic countries with the USA under the leadership of Donald Trump. 

In Poland, we do not find statistics on attacks on homosexuals in recent years. In Hungary, the last serious incident was violence against participants of the "Gay Pride" march in 2008. In Russia, Aleksandr Kondakov, a sociologist at the European University in St. Petersburg, exposed the following data (with the exception of Muslim Chechnya): "If before 2013, there were on average 32 cases based on hated to LGBTs, in 2015, there were already 65," Kondakov says. Is it a lot for a country with a population of more than 140 million? Kondakov however recognizes that the attitude towards gays in bigger cities (where their majority lives) is much more tolerant. 

Now let's do a similar Google search for "Attacks against homosexuals in UK / Germany / France". We get the following results.

Great Britain

Independent: "Attacks on LGBT people surge almost 80% in UK over last four years".

Over the past years, as we know, there has been a massive influx of migrants from Asia and Africa. You do not need to be Sherlock Holmes to find the cause–effect relation. 

According to Wikipedia, "Hate crimes against transgender people in England, Scotland and Wales, as recorded by police, increased 81% from the 2016-17 fiscal year (1,073 crimes) to the 2018-19 fiscal year (1,944 crimes)". 

LBC, January 2019: "London Gang Douse Victims In Acid During Homophobic Attack Caught On CCTV". 

Then comes the clincher:

Names of attackers: Huseyin Onel, Mehmet Tekagac, Onur Ardic, Guven Ulas, Mustafa Kiziltan, Serkan Kiziltan. True Polies, aren't they?

Germany. 

The Irish Times, Jul, 2018

"The culture clash is particularly obvious in multicultural neighbourhoods like Neukölln, where groups of Arab-speaking men sit outside shisha bars across the road from gay bars. "The mood has got worse in the last two years," said Maurus Knowles, a gay bar owner here who has been attacked himself and fears the mood is "beginning to tip". Some point to the 2015-2016 arrival of more than one million migrants – many raised in homophobic cultures in Afghanistan, Syria and northern Africa – and a 12 per cent rise in hate crimes against homosexuals in the same period". 

Breitbart (reference to Berliner Zeitung), Oct 2018

"A Berlin anti-violence project has claimed that attacks on homosexuals have never been so common in the German capital, with most of the attackers being young migrant-background men.

In 2017 alone, 324 violent incidents and threats toward homosexuals was reported to the Berlin anti-homophobic violence group Project Maneo which claimed that around a third of the complaints involved bodily injury, Berliner Zeitung reports.

The vast majority of the homophobic assaults in the city have occurred in the districts of Tempelhof-Schöneberg, Friedrichshain-Kreuzberg, and Neukölln. Almost all of the perpetrators of violence are men from migrant backgrounds, according to the head of Project Maneo Bastian Finke". 

France

FRANCE 24, 11/2018

"In France, spate of homophobic attacks on record is just 'the tip of the iceberg'. An increasing number of victims of anti-LGBT violence in France have spoken out over recent weeks, as rights groups have warned of a spike in attacks and the government has confirmed a 15 percent increase since the start of 2018."

Breitbart (reference to Le Parisien), Dec 2018

"French Islamist Allegedly Plotted To Kill Men After Luring Them on Gay Dating Apps" 

Breitbart (reference to Actu 17)

"A 21-year-old migrant from Tunisia has been arrested following a brutal attack in which a homosexual man was stabbed to death and his friend was disembowelled just outside of Paris. The murder and attempted murder are just the latest attacks on LGBT individuals in Paris by migrants and follow the fatal shooting of transgender prostitute Vanesa Campos last year in Paris' 16th arrondissement. Nine migrants, believed to be members of a local gang that routinely robbed prostitutes and their clients, were arrested in connection with the murder. .. Earlier this year a similar case saw four North African migrants arrested in connection to the drowning death of a transgender woman in Switzerland. The migrants were accused of sexually abusing 27-year-old Gaëlle P. after getting her intoxicated and then leaving her to drown in the nearby lake". 

If Hungarians do live in North Africa, undoubtedly this must be their dirty business.

Harari complains that homosexuals are increasingly beginning to support nationalists in Europe, in particular, Marine Le Pen. Why is this happening?

He can get an answer from activist of National Front, 20-year-old college student named Guillaume Laroze, who once supported François Hollande. "Laroze is gay and says he was attacked by a group of people he believed were immigrants. It happened in a train station in Paris in September 2016, Laroze said… I was assaulted by three 'opportunities for France,'" he remembered posting on social media after the incident. The phrase had become a sarcastic term used in nationalist circles ever since a Socialist leader described Muslims as "opportunities for France". 

In Sweden, the story on how "Migrants 'slaughter gay man and wrap snake round his neck" can be considered the triumph of multiculturalism.

Eastern Europeans and Russians do not welcome homosexuality. However there is a gap between the concepts of "not to greet" and "to hate". 

Poles, Hungarians, Russians don't intervene in the personal life of gays. Gays here can have their own clubs, cafes, sites, forums. In saying that, people in those countries do not want LGBT-community to impose their norms, ideas and standards on society, arrange exalted gay parades, agitated among children and adolescents, promote laws aimed at destroying the basic "Judeo-Christian", according to Orban, values. 

Immigrants from the Middle East and Africa refuse to accept homosexuals' existence in principle. In primitive communities, same-sex intercourse is acceptable only in one case - when an alpha male performs a public imitation of sexual intercourse with a defeated rival as a sign of the assertion of his superiority. This practice, taken from the primate world and being used by primitive people up until now, was reflected in the atrocities against Gaddafi and Christopher Stevens. All other variations of same-sex relationship are associated with shame and dishonor of the whole society. Transgender people are exterminated or banished as "defective individuals" or "devil's creatures." These ideas are imprinted tightly by a ruthless Islamic code. ONLY 5% OF PALESTINIANS AND 6% OF LEBANESE ACCEPT GAY RELATIONSHIPS, testifies Arab Barometer.

Educated elite of the West have brought those savages to their homes. They let the wolves into the pen of domestic rabbits and then were surprised that something is wrong with the poor rabbits. 

Harari fears a repeat of the Holocaust: this time – gays Holocaust. He is right. The Holocaust has already begun. Not in Russia, Hungary and Poland, but in England, France and Germany.

Nevertheless, I'm an optimist and I hope that unlike Jews in Nazi times, gays will have a place to which to escape. For example, this place could be Hungary of Viktor Orban, where they can exist quite safely, albeit without a vulgar and defiant exaltation.

Alex Maistrovoy is author of "Agony of Hercules or a Farewell to Democracy (Notes of a Stranger)", Available at Amazon and Barnes & Noble.