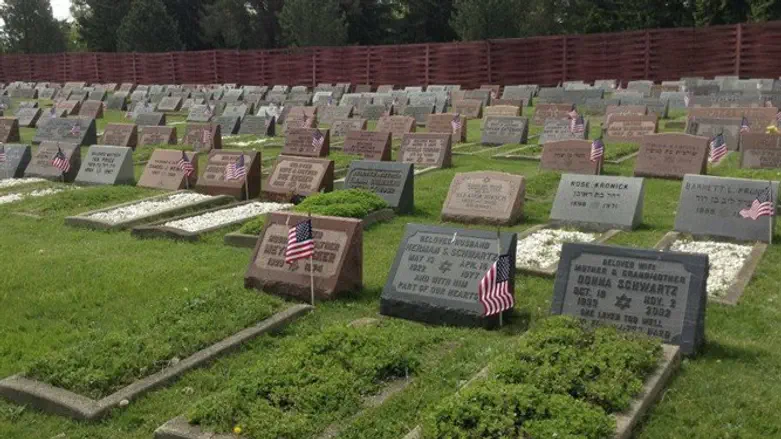 Stand with your local community Memorial Day Parade next week
We march to salute Israel, protest anti-Semitism and join endless issue-oriented gatherings in Washington, DC.  It's time for more of us to celebrate our veterans in America, many of whom are Jewish, and many who in the past and present risk their lives daily to protect our Jewish Homeland.  
Approximately 1.3 million members of the armed services have made the ultimate sacrifice, losing their lives serving our country and securing the freedoms we enjoy today.  Memorial Day is difficult for many spouses, parents, children and friends. Help them grieve by listening their stories and offering your support. Let's show our love for America in each of our local celebrations, by participating, sponsoring sharing the deep pleasure at The United States Of Americas's achievements, especially for the Jewish people.
No one wants to be forgotten. Honoring those who laid down their lives for our country means we haven't forgotten them and that we never will.  

 No one wants to be forgotten. Honoring those who laid down their lives for our country means we haven't forgotten them and that we never will.  

I live in a predominantly Jewish community whose recent parades have been poorly attended, especially by the Orthodox residents.

However, this year, we are making news!!!

The new, expansion of the parade is the brainchild of Penina (Paris) Popack, the President of The Lawrence Association, and member of many Jewish organizations.

Popack expressed concern in the past that our community did not express their gratitude to those who gave their lives so that we can enjoy the everyday luxuries we experience.  It is also a great opportunity to bring non-Jews and Jews of all religious affiliations together in a meaningful, enjoyable experience.  

 Popack visited with with community elected officials, local fire and police safety houses and school leadership from both the local public and private schools - and was promised participation.

 "Over the years, the local 5 Towns parade has too often been neglected and seen by some as only an event that closes down the main shopping avenue on a holiday Sunday or Monday. Our main thoroughfare and sidewalks will one again be crowded with families and spectators, students from our local schools and even those from surrounding areas, to both view a great spectacle of a colorful Memorial Day Parade with pomp and honor," said Popack.

This year, members of the Cedarhurst-Lawrence community, along with neighboring patriots, will gather on Sunday, May 26th at 10:00 AM, just prior to the national Memorial Day holiday, beginning in Lawrence at 10am and culminating with a meaningful ceremony in Cedarhurst's Andrew J. Parise Park.

 You still have time to join your local neighborhood parade next weekend.  Here are some major points on why you should motivate your friends to join you:
Remembering Our Fallen Heroes and Showcasing Community Pride
You Bring the Family, We Bring The Patriotic Experience
Remembering Those That Gave, So We Can Celebrate Life
American Jews Should Support Their Community As Much As Israel
Proud to be a Local American
How you can show your Jewish-American pride:
Marching in the parade
Watching the parade
Waving US flags
Reaching out to someone who has loved a loved one.
Businesses to decorate their storefront in patriotic fashion
Businesses to come out with employees to watch the parade and to encourage their patrons to do the same.
 By attending the parade as a participant or spectator, you are saying "thank You" to those who have sacrificed their lives to defend our nation, our families and freedoms.
 Noted Guests
Gad Elbaz, an international entertainer, who will a special guest in the parade, says "It's a huge honor to be part of this great American tradition, the Memorial Day Parade uniting everyone.  Anything that involves unity, I'm on board first."
 Local notable residents were asked to take part in special floats.  I was honored to be asked. Others headlining include Petrie Hirshaut, a Navy veteran and beloved Lawrence resident and Gabriel Boxer aka The Kosher Guru, social media sensation and local restaurant advisor.
Community Activist Henya Storch stated, "It may seem like a simple act but lining the streets in support for 1-1.5 hours of your morning shows that you care and is a great chesed.
Moreover, teaching your children and grandchildren about the true meaning of Memorial Day, reminding them of what the day is all about, can help them appreciate the sacrifices made by our fallen veterans and show gratitude, hakaoras hatov, which is a basic tenant of our heritage."
 Yeshivas, Jewish organizations, and local shuls should bring their banners and flags along the walk and share their participation on social media.
Jews are are unique.  We love Eretz Yisroel.  We also also love our legal status as residents around the world. American Jews love their states, and have yet another amazing way to say Todah Rabah to our veterans, our firefighters and police and our local communities for an hour or two next week.
Cindy Grosz can be reached at [email protected]