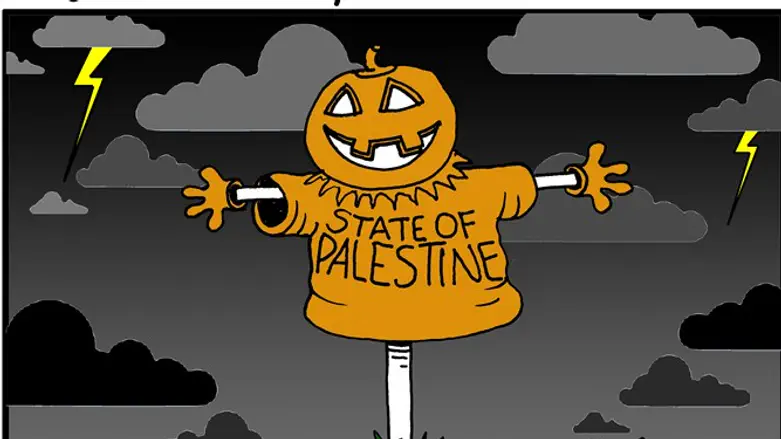 Trump team's UN reality check: 'Palestine' is not a state
President Trump's National Security Adviser - John Bolton - has exposed the fiction that there is a legally-constituted "State of Palestine" – shredding United Nations Educational, Scientific and Cultural Organization (UNESCO) and United Nations (UN) resolutions misleadingly recognising such a state when none - in fact – exists.
Bolton was unequivocal in his statement:
"Palestine" is not a state… It's not a state now. It does not meet the customary international law test of statehood. It doesn't control defined boundaries. It doesn't fulfill the normal functions of government. There are a whole host of reasons why it's not a state."
Article 1 of the 1934 Montevideo Convention completely substantiates Bolton's claim.
Holding out the carrot after administering the stick – Bolton continued:
"It could become a state, as the president said, but that requires diplomatic negotiations with Israel and others… We have consistently, across Democratic and Republican administrations, opposed the admission of 'Palestine' to the UN as a state, because it's not a state."
Bolton's tempting offer may have been made to try and get the PLO to negotiate with Israel on Trump's soon to–be-released peace plan. It seems certain to fall on deaf ears as the PLO wants nothing to do with Trump's plan.
The PLO will only be more infuriated at this latest Trump effort to engender some reality into the Arab-Jewish conflict – as happened when Trump recognised Jerusalem as Israel's capital.
UNESCO's decision to admit "Palestine" as a member in 2011 in clear breach of UNESCO's own Constitution has come back  to bite UNESCO with a vengeance - with America and Israel quitting UNESCO on 31 December 2018.
UNESCO anti-Israel decisions made since "Palestine" was admitted to UNESCO membership have included: 
January 2014 – cancelling an exhibition at its Paris headquarters on the Jewish presence in the Land of Israel 
October 2016 - disregarding Jewish ties to the Temple Mount - only referring to it by its Muslim names – then several weeks later - passing a softer version of the resolution that referred to the Western Wall by its Jewish name - though still ignoring Judaism's ties to the site.
July 2017 - designating Hevron and the two adjoined shrines at its heart — the Jewish Tomb of the Patriarchs and the Muslim Ibrahimi Mosque — as a "Palestinian World Heritage Site in Danger".
On 29 November 2012, the UN General Assembly granted Palestine "non-member observer state" status.  
Pure fiction
The PLO hopped on the UN bandwagon - PLO Chairman Mahmoud Abbas decreeing on 3 January 2013:
"Official documents, seals, signs and letterheads of the Palestinian National Authority official and national institutions shall be amended by replacing the name 'Palestinian National Authority' whenever it appears by the name 'State of Palestine' and by adopting the emblem of the State of Palestine."
Pure fiction.
In November 2014 - Sweden became the 135th member of the UN to officially recognize Palestine as an independent state.
Pure fiction - 135 times over.
More truth-telling involving Jordan-Israel negotiations are on the Trump agenda – Bolton having signalled on 18 January:
"In fact, [Jordan's] King Abdullah II should be preparing himself for a larger role in the 'West Bank'. Before the 1967 war, Jordan had no hesitation asserting sovereignty over 'West Bank' territory from Britain's former Palestinian mandate, territory conquered by Jordan's Arab Legion during the 1948 to 1949 war with Israel.
"Once it becomes clear the two-state solution is finally dead, Jordan should again be asked to exercise control over suitably delineated portions of the 'West Bank' and have the monarchy's religious role for holy sites like the Temple Mount reaffirmed."
Fact – not fiction – will resolve the Arab-Jewish conflict.
Dry Bones 15.10.18 Scary Halloween Joke
INN:YK
Author's note: The cartoon – commissioned exclusively for this article—is by Yaakov Kirschen aka "Dry Bones"- one of Israel's foremost political and social commentators –  whose cartoons have graced the columns of Israeli and international media publications for decades. His cartoons can be viewed at Drybonesblog