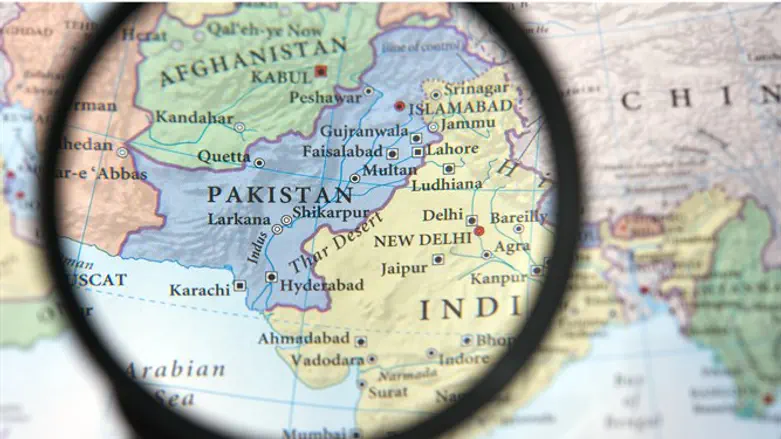 There is an ongoing Pashtun genocide in Pakistan
A recent wave of Pashtun protests across the globe draws attention to one of the biggest tragedies of our time – Pashtun genocide in Pakistan. For many years the Pakistani regime has used country's military to abduct, torture and kill citizens coming from country's ethnic minority of Pashtuns.
The last was the murder of Naqib Ullah Masud, a 27-year-old man from Waziristan, in January 2018. Accused of alleged ties with a terrorist organization Tehreeq-i-Taliban, Naqib Ullah was killed in Karachi in an "encounter" with the police. His only proven crime – he was not afraid to openly speak against the establishment.
Pashtuns are believed to be descendants of the ten lost tribes of Israel.

Naqib Ullah's death sparked outrage among Pashtuns on both sides of the Durand line, hundreds of thousands of people took part in peaceful protests organized by Pashtun Tahafuz Movement (PTM), a movement for Pashtun human rights.
PTM leader Manzoor Ahmad Pashteen, a 26-year-old man from Waziristan, became the voice of all the Pashtun community. This charismatic young man clearly states the goal of recent peaceful protests: stop extrajudicial killings of Pashtuns, respect Pashtun constitutional rights, release all abducted. Investigations against those allegedly tied with terrorists must be launched and carried out as per law, their guilt must be proven in court.
Pashtuns all over the world are raising their voices in hopes for the campaign to gain global attention and support, and several protests recently took place in the US and across Europe.
On Monday, June 25th, another protest against Pakistani military atrocities took place in front of the second-largest United Nations Office at Geneva. At that same time, in a small, half empty room, Mr. Aurang Zeb Khan Zalmay, a Pashtun rights activist and creator and editor-in-chief of The Pashtun Times news site, gave a speech in front of the UN Human Rights Commission. In his speech Mr. Khan Zalmay emphasized the peaceful nature of Pashtuns, he described current resistance as "conscious spontaneous rising reflecting the real situation exiting in the whole tribal areas and beyond".
For many years Pashtuns have been suffering from terror, they, more than anyone else, would be "pleased to clean out their land from the criminal bandits," he said. Unfortunately, it became known that "the criminal terrorist organizations, individuals, prominent persons have been saved in a safe haven created by the military jihadi junta of Pakistan". Influential people from Pashtun communities, be they traditional elders, spiritual leaders, or others, are systematically killed, tortured and removed from their homes. It is unknown whether the displaced are still alive. Mr. Khan Zalmay seeks the world community's interference, he asks to save his suffering nation from approaching civil war.
On June 27 Pakistan was officially added to The Financial Action Task Force grey list. Financial Action Task Force (FATF) is an intergovernmental organization whose main task is to combat money laundering. Established in 1989, in 2001 FATF mandate expanded to include terrorism financing. Good news, but not enough. The goal is to put Pakistan on the blacklist as a "Non-Cooperative Country or Territory" (NCCTs).
Pashtuns are believed to be descendants of the ten lost tribes of Israel. About 900 years ago Rabbi Binyamin from Todela in his book "Mas'ot Binyamin" mentioned Israelite tribes living on the territory of modern Iran and Afghanistan.
Yitzhak Ben Tzvi, Israel's second president, researched the topic in depth, he wrote a book "The exiled and the redeemed", where he explored the Pashtun tribes and their Israelite origins. Dr. Shalva Weil from the Hebrew University of Jerusalem, an anthropologist with expertise in Indian Jewry, conducted a research on Pashtuns in Kashmir, which led her to the conclusion that Pashtuns are indeed part of the Lost Tribes of Israel.
Dana Soffi was born and educated in Riga, but always dreamed of living in the Holy Land and made aliyah in the end of November 2011, after receiving her Bachelor's degree of Social Science in Management at Riga Technical University. After marrying here, in Israel, eleven months after emigrating, she and her husband decided that they wanted to build a real Jewish home based on Torah and traditional values. Today both are baalei teshuva.
She writes: About two years ago my husband and I started taking interest in The Lost Tribes of Israel. After lots of googling we found several articles on Pashtuns, who claim to be the descendants of Yaakov.  We created a closed group on facebook called The people of Israel's jirga - Pashtuns and Jews, currently there are 2715 members in the group. Together with our Afghan* brothers and sisters we discovered a lot of Israelite customs among Pashtuns, we found great friends, we understood that there is no hostility between us. Our activity eventually lead to the creation of The Association for the Bani Israel of Afghanistan, a non-profit organization which goal is to raise awareness among both Pashtuns and Jews of our common ancestry, as well as to find ways to connect in the real world: to be able to visit each other, to develop a student exchange program, to do business together, and more.
* Even those Pashtuns who live in Pakistan consider themselves Afghans and do not accept the Durand line. 
More:
The people of Israel's jirga - Pashtuns and Jews:
https://www.facebook.com/groups/1673613199574399/
The Association for the Bani Israel of Afghanistan:
https://www.facebook.com/The-Association-for-the-Bani-Isra…/

The Association for the Bani Israel of Afghanistan (Hebrew page):