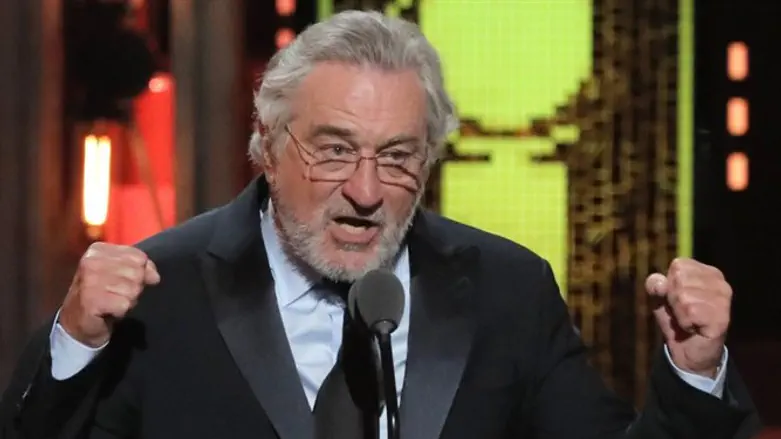 Resisting Robert De Niro
We wrote earlier that if Robert De Niro is what's playing on Broadway, there is real concern for the safety of our president.
Words send messages and surely there are people out there just as crazy as he is, and crazed enough to think they've been given a message to act words for deeds.
De Niro's profanity-laced rant against Trump at the Tony awards did more than stink up the joint – the joint gave him a standing ovation.
That is still making headlines.
Some nut out there could interpret the applause and the headlines as a shortcut to fame and wipe the grin off De Niro's face.
For the consequences will lead back to De Niro, on his head the fallout – him and his fellow Liberals. This much we've learned. Against Trump, anything goes. No insult is too low. No vulgarity is too harsh and to articulate their resentments in Robert De Niro they have found their star.
He embodies them all.
In the blare of that moment up there on stage, De Niro vomited the entire platform of the Democratic Party.
Okay by them Wednesday's UN General Assembly resolution blaming Israel for defending itself against Hamas. What's good for the UN is good for Progressives…and the pity of it is that throughout the years, De Niro stood strong for Israel. Does he still? Or has he gone the way of all Liberals?    
If we had any doubts, now we know exactly what they are thinking in terms of Trump and we the people who voted for him.
Why would a man who had a legacy guaranteed stoop so low? We could ask the same of Meryl Streep and the cast of thousands who revealed themselves deranged against Trump.

De Niro gave it away, and the applause at Radio City Music Hall made it unanimous. They loved his foulmouthed outburst.

No touch of class there, no decorum, no decency when the Left won't take defeat for an answer, but feel privileged to campaign with bitterness.

This was supposed to be their world – and we snatched it from them. We took Trump. De Niro symbolizes that acrimony.

Why a man would tank his own career will be a question for his biographers.

We want "The Godfather, Part Two." Instead we're getting De Niro part two, a sequel far less appealing.

Those were wise men who ran the Old Studios, under whose System their galaxy of movie stars were kept close to the mystique and far from the politics. By the rules of their contracts they were kept from speaking out of turn upon the knowledge that actors are long on memorization but short on wisdom

They might say something stupid that could spoil everything Broadway to Hollywood.   

Why would a man who had a legacy guaranteed stoop so low? We could ask the same of Meryl Streep and the cast of thousands who revealed themselves deranged against Trump.

We should never know too much about our heroes. They will disappoint.

Trump has responded, calling De Niro "a very low IQ individual."  

Likely so – and what a waste of a talent we used to admire.

New York-based bestselling American novelist Jack Engelhard writes regularly for Arutz Sheva.

He is the author of the international book-to-movie bestseller "Indecent Proposal" and most recently the two inside journalism thrillers "The Bathsheba Deadline" and "News Anchor Sweetheart, Hollywood Edition." Engelhard is the recipient of the Ben Hecht Award for Literary Excellence. Website: www.jackengelhard.com