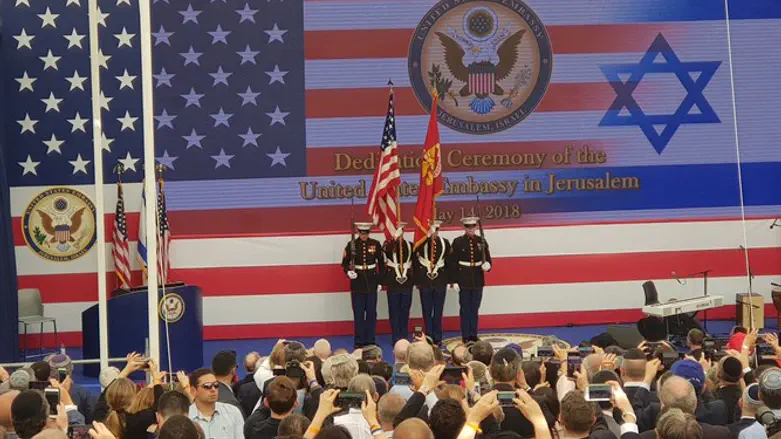 Where were the Democrats?
This should be clear enough, even for clueless Conor Powell, that If you don't show up for Israel it means you're showing up for Hamas.
That's the tribe of terrorists who rule Gaza with love and tolerance for nobody, including their own children.
Why, for Fox News, is Powell dishing this Hamas propaganda about right of return to "ancestral homes" that can only fool a reporter who knows nothing.
Well, what can you expect from today's journalists except zilch city. On the political front, however, Democrats occasionally know right from wrong. I said occasionally.
So in or out, as we've been saying. You can't be half for Israel, where every child is precious, and half for Moloch who practice child incineration.
Was this a boycott? Either way, mark them as absent without an excuse. The Democrats were not there in Jerusalem when it counted, so count them as sharing the values of Radical Islam.
Include them with Hamas, ISIS, al Qaeda and Hezbollah. Nothing wrong with beheadings, wife beating, gay bashing, honor killings, and capricious mass executions.
It's a sale, according to this new wave of Bernie Sanders Liberalism and… we should try it at home.
True to form, Bette Midler, as any good Liberal, is in pain for the loss of life on the other side, even though they are hardly innocent, charging in with Molotov cocktails amid chants that call for the death of all Jews. So strange. She is shrieking loudest of all, but we hear not a sound from her when her own people get killed.
Midler and others like her are terribly upset at the "disproportion" – why 60 fatalities for them and none for us. Shame on Justin Trudeau for dragging Canada onto the wrong side again.
Trust me, we already gave (and continue to do so). We gave at the office. We've paid our dues. Since the beginning (for modern Israel), 23,646 Israelis fell in combat against these Arabs, and 2,477 Israeli civilians were killed by Arabs while they were eating pizza or celebrating weddings and Bar Mitzvahs.
Add to that the Six Million.
Is that enough?
Now they speak up – and in favor of our sworn enemies. Back then Ben Hecht could barely gather up a minyan for his campaign to save what was left of us from Auschwitz.  
These are not your father's Democrats, nor your mother's Liberals. Not today. Today they're all about resisting Trump because he's Trump and bashing Jews because they're Jews.

American Jews who soon after volunteered and sacrificed at the founding of Israel, like Colonel Mickey Marcus; that's another story for another time.

So Americans did chip in and that must have been a time when religious affiliation ranked far higher than political allegiance.

Not so much today. Chuck Schumer, the Senate's leading Democrat, okay, he came out in support of the US Embassy in Jerusalem, and (like the Yankees rooting for the Red Sox) actually praised President Trump for the courageous decision, but real courage on Schumer's part would have been to make the trip to prove himself a mensch above his Party.

Then comes New York's Democrat governor Andrew Cuomo who was prepared to show up in Jerusalem, but as The New York Postreports, came this close, but then cancelled until the "situation calms down." A perfect case of half in, half out. Writes the Post – "Cuomo, after all, is facing a challenge this year from his left flank — and eyeing a 2020 White House run in a Democratic Party that is just galloping away from the Jewish state."

Galloping away from the Jewish state is another way of saying in cahoots with the enemy or sleeping with the enemy.

These are not your father's Democrats, nor your mother's Liberals. Not today. Today they're all about resisting Trump because he's Trump and bashing Jews because they're Jews.

This is the Party of Keith Ellison, Linda Sarsour and Tamika Mallory, all of whom find Louis Farrakhan a real charmer.

(Readers who keep saying I should write a book about all that, well I wrote three, this and that and even this big one knew the score.)

Trump was a lucky catch for the USA and Israel and on Jerusalem he made his move in the nick of time. Midterm elections are coming – and who knows what to expect?

It is not too early to start praying for the welfare of the state.

New York-based bestselling American novelist Jack Engelhard writes regularly for Arutz Sheva.

He is the author of the international book-to-movie bestseller "Indecent Proposal" and most recently the two inside journalism thrillers "The Bathsheba Deadline" and "News Anchor Sweetheart, Hollywood Edition." Engelhard is the recipient of the Ben Hecht Award for Literary Excellence. Website: www.jackengelhard.com