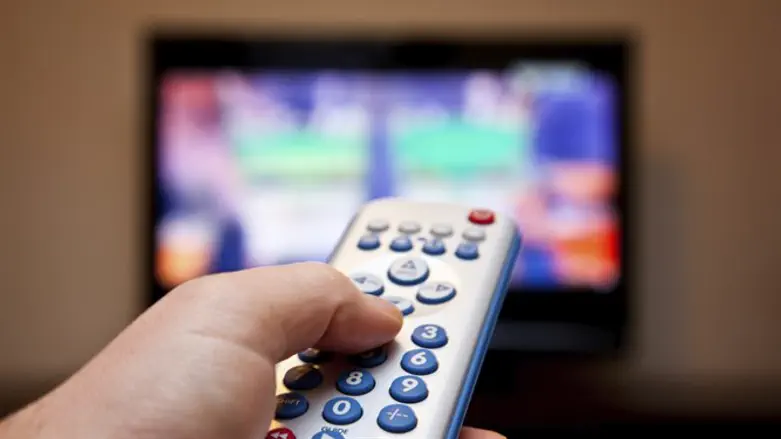 Fake news is an issue: Stand with those who avoid it
Those of us who support Israel are well aware of the plague of fake news.  Take for example the picture of actress Katherine Heigl from the television series "Grey's Anatomy", claiming that she was a French doctor coming to treat Gazans wounded in clashes with Israeli forces this past week. That fake post was liked more than 500,000 times in 48 hours. 
Intentionally mendacious news is a regular issue and one which has plagued the Jewish state since well before "fake news" became mainstream.
Sinclair Broadcast Group is under fire for having news anchors read off a script, something which every single news station does.  Anchors were encouraged to read a statement which read, "[I]t's our responsibility to pursue and report the truth. We understand Truth is neither politically 'left nor right.' Our commitment to factual reporting is the foundation of our credibility, now more than ever."
In an era in which people don't trust the news, the reality is that everyone's version of the truth differs by how they see the world, and it is  truly baffling that the left-wing media sees Sinclair's statement as something nefarious.  
Sinclair is the largest television station operator in the United States – their affiliates are across the board and their programs reach 40% of America via local TV programs. 
In other words,Sinclair is not "part" of the mainstream, it is the mainstream.
As Jonah Goldberg rightfully pointed out, other news organizations have similar campaigns: "…some of MSNBC's promotional ads are far, far, more explicitly partisan. In the past, anchors have appeared in commercials staring straight to camera preening about the need to "Lean Forward" into  various progressive causes…CNN recently launched a self-promotional ad campaign, making the exact same point as the Sinclair script. It begins: "This is an apple. Some people might try and tell you that it's a banana…" it goes on to make the point that CNN can be counted on to call apples apples."
On issues important to the Jewish community, Sinclair's views are very clear. 
For example, Boris Epshteyn, the head political correspondent for Sinclair Broadcasting (and former White House official) wrote an op-ed last week noting, "The apparent hate crime murder of a Holocaust survivor in France leaves me scared, shocked and wanting our country to do more to prevent the rise of anti-Semitism here, in America. Mrs. Knoll was a loving mom and grandma. She survived the Holocaust, but did not survive the hate toward Jews that is again on the rise throughout the world. What does it say about our country when sitting members of Congress have praised well-known anti–Semite Louis Farrakhan and have received very little political blowback. Here is the bottom line: last week that murder happened in France and next week it could very well happen here, in America. We as a country and our elected officials specifically have to do everything possible to denounce and prevent anti-Semitism at every turn."
In December 2017, a Sinclair op-ed read, "Recognizing Jerusalem as capital of Israel is the right move by President Trump", noting "Israel is the only true democracy in the Middle East. Its continued strength and survival are important to the United States, not just symbolically, but also in terms of America's national security." And he continued, "The prospect of violence cannot make us, the only true superpower in the world, afraid to do the right thing. In this case, that right thing is recognition of Jerusalem as the capital of our close friend Israel."
Fake news is a big issue, and Sinclair Broadcasting is a friend of Israel that avoids it. All friends of Israel must stand with Sinclair Broadcasting.
 YouTube video MSNBC's Lawrence O'Donnell: Human Need
Ronn Torossian is the Founder & CEO of 5W Public Relations, a top 10 public relations firm in the U.S.