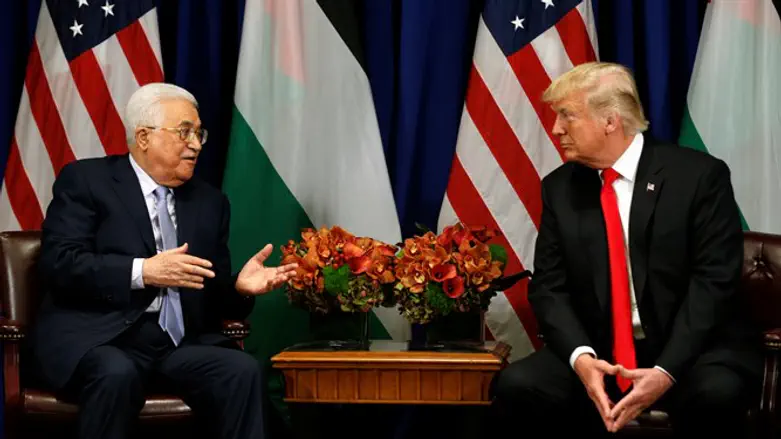 Israel, Trump and United Nations should boycott Abbas and the PLO
Israel's Prime Minister – Benjamin Netanyahu – has used his address to the American Israel Public Affairs Committee (AIPAC) – to savage the Palestine Liberation Organization (PLO)  policy that rewards Palestinian murderers of Israelis and other innocent civilians with lifetime payments.
Netanyahu's PLO-onslaught in front of 18000 people attending the annual AIPAC Conference in Washington was unequivocal and unrelenting:
"But to get peace, to get peace President Abbas has to embrace peace and to stop supporting terror. Raise your hands high if you agree with me that President Abbas should stop paying terrorists who murder Jews. You know how much he pays? He pays about $350 million dollars a year to terrorists and their families, each year. That's about a little less than 10% of the total Palestinian budget. That's an incredible number. He pays Hakim Awad. Hakim Awad is the terrorist who murdered this beautiful family of Ehud and Ruth Fogel and their three children, including a 3 month-old baby girl, Hadas. So he pays Hakim Awad, this murderer, and over the lifetime of this killer, he will be receiving two million dollars."
Hakim Awad - aged 18 – and his 19 years old cousin and accomplice Amjad Awad - each received five consecutive life sentences for murdering the five sleeping  Fogel family members in March 2011.
Netanyahu's attack on Abbas comes at a particularly sensitive time politically  as:
Palestinian prisoners serving 20-30 year sentences for these  murderous attacks reportedly receive a monthly US$3400 stipend for life.Those receiving a three-to-five-year sentence get a monthly wage of US$570. Palestinian prisoners who are married, have children, live in Jerusalem, or hold Israeli citizenship receive additional payments.
Trump called on Abbas to abandon this immoral and heinous policy during  a joint press conference in Bethlehem in May 2017:
"Peace can never take root in an environment where violence is tolerated, funded and even rewarded"
Abbas seems to believe he can publicly humiliate Trump and escape the consequences.

Just one month later Jared Kushner  - Trump's son-in-law and chief Middle East adviser -  and Trump's international negotiator Jason Greenblatt –  met with Abbas in Ramallah.
According to reports in Arabic media, the Americans then allegedly watered down Trump's demands  – only wanting these payments stopped to some 600 prisoners serving life sentences in Israeli prisons.
Abbas defiantly rejected that proposal.
Abbas seems to believe he can publicly humiliate Trump and escape the consequences.
Monetary retaliation is a totally inadequate response to the indiscriminate murder of innocent civilians.
Israel, Trump and the United Nations should  boycott Abbas and the PLO by terminating all diplomatic contact until their vile and repulsive  "murder for money" policy is ended.