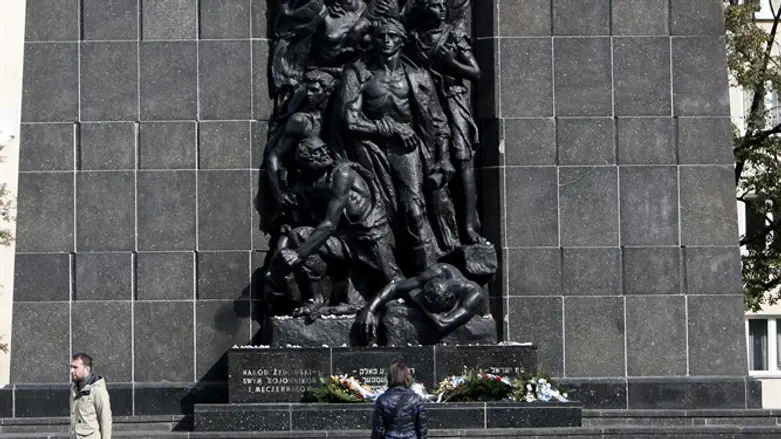 Guess I won't be rooting for Poland in these 2018 Olympics
The recently enacted Media law says that it is forbidden to make public any statement that links Poland to Germany's evil in the Holocaust.
Up to three years in prison if you are caught saying "Polish death camps" out loud, especially through the press.
So let's keep this private. Make sure not to pass this around…that the Poles were not innocent bystanders. They were horribly complicit before, during and after.
History knows what happened, though my family (and yours too, I'll bet) needs no books to tell the story or give the number -- 3-miilion Polish Jews slaughtered one way or another.
Most of that work, plus the other 3-million from elsewhere, was done within six death camps, somehow situated in Poland.
Somebody in Poland must have known something!
Yes, the general population surely suffered as well under the German boot – but the Jews, as usual, everywhere in Europe, came in for special treatment.
My own family's story goes like this; the few who survived Auschwitz went back to Lodz or Warsaw or nearby and were among the hundreds of thousands who found their homes vandalized. Their jobs were taken. Their shops were confiscated. They were further welcomed by their former neighbors with slurs, curses, fists, knives, riots, broken glass, murder.   
My cousin Paula – one of the first female doctors in Warsaw -- survived Auschwitz and it was quite that scene that greeted her upon her return. She had to escape all over again (and barely made it out to America). I don't know what she expected for a homecoming. Surely not this, when in fact she
The Jews of Poland were not passive. They were trusting. They trusted that Poland would protect them, as did the rest of the citizenry. They did not expect Poland, armed to the teeth back in 1939, to fall to the Germans in 18 Days.  

remembered with fondness her Polish colleagues and neighbors.

Some were indeed kindhearted, to be sure…and remain so, to this day.

But something happens once anti-Semitism gets started. It can't be stopped on a dime.

So here we go again, the sniff of anti-Semitism, and since that law was passed, more and more people feel justified and emboldened to never mind absolve Poland, but to blame the Jews.

Thus we hear from a high ranking official in Poland, Andrzes Zyberlowicz, that Israel objects to the Media Law due to "a feeling of shame at the passivity of the Jews during the Holocaust." Of all the chutzpah…to say something like this. No, Mr. Z (you're crazy if you think I'll try to spell that name again) – the Jews of Poland were not passive. They were trusting.

They trusted that Poland would protect them, as did the rest of the citizenry. They did not expect Poland, back in 1939, to fall to the Germans in 18 Days.  

Two weeks was all it took for Poland's military to collapse, a military armed to the teeth; while the Jews (many, by the way, who did serve honorably) were defenseless civilians.

Precisely to keep that from happening again – enjoy your next trip to Israel, Mr. Z.

The best Poland can say is that so far as atrocities, from the hands of its own people, Poland was no worse against the Jews than the rest of Europe – which isn't saying much.

Or let's just say that Europe's behavior during the Shoah was and remains abysmal. So bad that, I would think it would have been best to let it slide…that in fact this Media Law which tries to make people forget that there were death camps in Poland, only reminds people that there were death camps in Poland.

Why fix something that ain't broken?

Yes, Israel objects to this new-fangled Media Law. But thank G-d it does so outside of Poland's crosshairs, but rather from a distance, this time sovereign, armed and dangerous.

New York-based bestselling American novelist Jack Engelhard writes regularly for Arutz Sheva.

Just released is his augmented HOLLYWOOD EDITION of "News Anchor Sweetheart." Engelhard wrote the international book-to-movie bestseller "Indecent Proposal" and the inside-journalism thriller "The Bathsheba Deadline." He is the recipient of the Ben Hecht Award for Literary Excellence. Website: www.jackengelhard.com