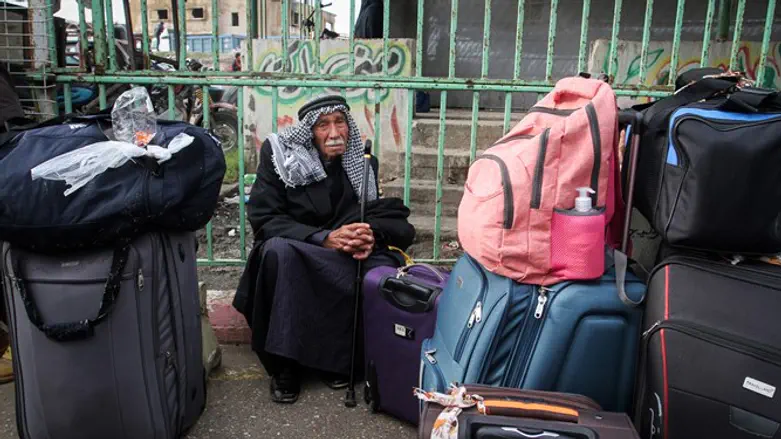 INTO THE FRAY: Gaza: Let their people go!
"If the borders opened for one hour, 100,000 young people would leave Gaza"  -  Rashid al-Najja, vice dean, Gaza's Al-Azhar University;
"...I'd go to Somalia, Sudan — anywhere but here" -  Salim Marifi, student, Gaza's Al-Azhar University, in   Al Jazeera, May 6 2015.
"96 percent of water in the Gaza Strip is now undrinkable" -  i24 News  April 9, 2017.
"Each day, millions of gallons of raw sewage pour into the Gaza Strip's Mediterranean beachfront … turning miles of once-scenic coastline into a stagnant dead zone" - Associated Press , May 3, 2016. 
"Gaza's sole power plant runs out of fuel" – Times of Israel, April 16, 2017.
The endeavor, spanning almost a quarter century, to transform the coastal enclave of the Gaza Strip into a self-governing Arab entity (or even part of such an entity) has failed.  
It has failed resoundingly and irretrievably.
After two-and-half decades of futile effort, the time has come to accept this—and to acknowledge that further pursuit of this  ill-conceived objective will only compound the current tragedy—for both Jew and Arab alike. 
Incapable and uninterested
Indeed, with the passage of time, it is becoming increasingly clear, that as a collective the Palestinian-Arabs, in general, and the Gazan-Arabs, in particular, are totally incapable of, and largely uninterested in, creating and sustaining an independent political entity for themselves, by themselves. 
Underscoring this dour assessment is the increasingly frequent —and increasingly ominous—flow of reports warning of imminent  collapse of virtually all the basic infrastructure in Gaza—electric power, water, sewage and sanitation systems—and the impending catastrophe this is likely to precipitate.  
This raises a trenchant question and one which advocates of Palestinian statehood must be forced to confront: Why has a Palestinian state failed to materialize up to now? 
This is not a trivial question that can be avoided or circumvented.  
After all, it is difficult to identify any other "national liberation movement" that has enjoyed circumstances more benign for their cause than that of the Palestinians-Arabs.Since the early '90s, the Palestinians have had: 
• Virtually wall-to-wall international endorsement of their claims;
• Almost unanimously supportive coverage in the global mainstream media;
• Generous financial aid – reportedly among the highest per capita in the world; and 
• Successive willingly compliant Israeli administrations that not only accepted their claims, but built much of their political credo on that acceptance…and gambled much of their political capital on it.
Yet, despite these bountiful benefits, the Palestinian leadership have produced the most meager and miserable results.
Corrupt kleptocracy or tyrannical theocracy
Other national freedom movements, with far less funding, far less armaments and far less political support, have cast off mighty empires. By contrast, the Palestinian-Arabs have, after decades of "resistance",  not only proved unable to assert their political independence from a tiny mini-state, beleaguered  in the region and berated by all and sundry in the international community;  but they have failed abysmally to create anything remotely approaching a stable, and productive civil society.
Under Fatah in Judea-Samaria, they have spawned a corrupt kleptocracy.
Under Hamas in Gaza, they have imposed a tyrannical theocracy.
Under neither is there any horizon of hope for a better, more peaceful, more prosperous life for the general public, nor is there any prospect of such hope dawning in the foreseeable future. Both are critically dependent on the (ill-advised) largesse of its alleged "oppressor", from whom they purportedly strive to liberate themselves.
The magnitude of this failure can be gauged from  a recent  report by the Congressional Research Service entitled, "U.S. Foreign Aid to the Palestinians:":  "Since the establishment of limited Palestinian self-rule in the West Bank and Gaza Strip in the mid-1990s, the U.S. government has committed more than $5 billion in bilateral economic and non-lethal security assistance to the Palestinians, who are among the world's largest per capita recipients of international foreign aid."

The futility of international aid
The report goes on to stipulate the intended objectives of this generous aid: "Successive Administrations have requested aid for the Palestinians in apparent support of at least three major U.S. policy priorities of interest to Congress: 
· Promoting the prevention or mitigation of terrorism against Israel from Hamas and other militant organizations;  
· Fostering stability, prosperity, and self-governance …that may incline Palestinians toward peaceful coexistence with Israel and a "two-state solution." 
· Meeting humanitarian needs…"
Seen against the grim realities today, this aid has failed miserably in achieving any, and all, of its declared goals!
 The motivation for terror attacks against Israel by Hamas and other Palestinian-Arab terror organization have been neither prevented nor mitigated.  Indeed, with Hamas  still actively engaged in enhancing its offensive capacities—both underground tunnel networks and overhead missile capabilites—there are few  illusions in Israel that a fourth round of fighting  is merely a question of "when", not "if"
Neither stability, nor prosperity, nor effective self-government have been in any way significantly fostered. Indeed, quite the reverse seems to be the case. Thus,  despite decades of generous international goodwill, all the Palestinian-Arab leadership has managed to create is an untenable, divided entity, crippled by corruption and cronyism, with a dysfunctional polity, incapable of holding even municipal elections; and a feeble economy that, with its minuscule private sector and bloated public one, is utterly dependent on external support.
Moreover, humanitarian needs have not been met in any meaningful manner. If anything, the opposite seems true with the entire civilian infrastructure system teetering on the cusp of collapse. 
Powers outages, undrinkable water, untreated sewage
With perennial power outages, undrinkable water supplies, failing sanitation services, and awash in uncontrolled and untreated flows of raw sewage, life for many in Gaza is becoming unbearable.
Earlier this month, the media abounded with dire warnings of an impending shut down of power supplies in Gaza. One headline proclaimed   Gaza Electricity Crisis Deepens as Sole Power Plant Shuts Down; while another declared Gaza's Sole Power Plant Runs Out of Fuel

The reasons for the shutdowns are not related to Israel... but to intra-Palestinian quarrels between the Fatah-controlled Palestinian Authority and Hamas in Gaza; and to Hamas's own priorities in the use of electrical power .


The shutdown would leave many with barely four hours of electricity a day and would impact virtually all walks of life. 
One member of Gaza's Chamber of Commerce warned that factories will be forced to shut down, because the owners cannot afford to run generators as an alternative source of electricity: "The continuing stoppage of the Gaza power plant for 20 hours a day foreshadows a real catastrophe that might affect the basic food security of the people as well as the health and education sectors," he lamented.
The power shortages have also crippled the operation of a new desalination plant and sewage treatment plant and undermines the regular operation of sanitation services.
Significantly, the reasons for the shutdowns are not related to Israel's security quarantine of Gaza, but rather to intra-Palestinian quarrels between the Fatah-controlled Palestinian Authority and Hamas in Gaza; and to Hamas's own priorities in the use of electrical power .
Indeed, senior figures in Hamas put the blame squarely on Mahmoud Abbas and the Fatah for imposing exorbitant taxes on fuel imports into Gaza. 
Moreover, several reports indicate that Hamas has deprived Gaza's desalination and sewage  plants of electricity, opting to use the available power for other purposes—such as Gaza's luxury hotels, which cater for the enclave's wafer thin affluent class.

Calamitous consequences 
The grave results of this dysfunctional governance are not difficult to discern.
iTV News reported that both international and Israeli bodies "estimated that some 96 percent of water in the Gaza Strip is now undrinkable after the collapse of the enclave's main aquifer"
. 
Al Jazeera carried an account of the appalling conditions that inadequate sewage treatment has brought, from a local farmer in Wadi Gaza, a valley in the central Gaza Strip: "Farming is ruined. The plants are diseased. There are flies, worms, and it is spreading."  The report added:  "Animals and birds were soon replaced by swamps of sewage, swarming flies and thriving bacteria. Residents began to suffer from an increase in allergies, inflammation, fevers and weakened immunity.  Disease-ridden mosquitoes feasted on the community at night. The stench was overpowering."
Thus, with much of the sewage conveyance pipes in a state of disrepair, leaking into the coastal aquifer, Gaza's sole source of natural water; with the aquifer itself being depleted at three times its recharge rate from rainfall; with massive flows of untreated sewage flowing directly into the sea, making the beaches and swimming a distinct health hazard, future prospects for the average Gazan look bleak indeed—with little hope for improvement on the horizon.
Accordingly, it is hardly surprising to learn that polls conducted by Palestinian institutes consistently show that almost half (and occasionally more than half) of the Gazans would like to emigrate—even without there being a tangible economic incentive offered.
The only real "reconstruction" in town
Of course, many of Israel's detractors will attempt to lay the blame for this dismal situation on the "Occupation" and the "Siege". But, this is merely a flimsy pretext that is sounding increasingly hollow.  After all, as we have seen previously, virtually the entire crisis is a result of intra-Palestinian decisions regarding resource allocation and taxation.Indeed, the validity of this contention is bolstered by examining just how the Palestinian-Arabs in Gaza have chosen to invest their energies and divert their resources.
Last year, high level Israeli sources revealed that Hamas was seizing over 90% of cement supplies entering into Gaza for its own purposes, such as construction of terror tunnels. But Hamas's efforts were not confined to underground terror installations. The organization invested considerable effort in replenishing and enhancing its overhead weaponry.
Thus, last December, Hamas Political Bureau Member, Fathi Hammad,  proudly informed Al Aksa TV : "..our Jihadi, 'Izz Al-Din Al-Qassam units have become an army, Allah be praised...This army has its own industry. Incidentally, we are now ready to sell our missiles to Arab countries. These are advanced missiles. If you look into the missile or weapon industries of developed countries, you will find that Gaza has become the leading manufacturer of missiles among Arab countries…"Showing commendable commercial enterprise, he went onto propose a new export industry for the beleaguered enclave "We are prepared to sell them (to Arab countries) - so that they will launch them against the Jews…"Significantly, according the Guardian, IDF assessment shows that by the beginning of this year, Hamas's "military capabilities had been restored to their pre-2014 war strength"—which is, of course, an impressive feat of "reconstruction"
So, despite Israeli restrictions, it appears that, where mobilizing against the hated "Zionist entity" is concerned, Gazans seem able to find the ingenuity and productive energies that evidently elude them in other fields of endeavor.
The need to restructure humanitarian aid
The current situation in Gaza, and the accompanying misery, are the direct result of the misguided attempt to foist statehood on the Palestinian-Arabs.
It was Albert Einstein who famously said that one could not solve a problem with the level of thinking that created it.The problem of Gaza was, irrefutably, created by the belief that land could be transferred to the Palestinian-Arabs to provide them a viable opportunity for self-governance.Accordingly, the problem of Gaza cannot be solved by persisting with ideas that created it – i.e. persisting with a plan to provide the Palestinian-Arabs with land for self-governance. This concept must, therefore, be abandoned for any lasting solution to be possible. 
Clearly then, persisting with humanitarian aid, as in the past, will yield essentially similar results to those of the past.  Any improvements in the humanitarian conditions will be at best marginal, probably imperceptible.
The only real way to alleviate the humanitarian crisis in Gaza is to offer the Gazans what they really want – a better life elsewhere, out of harm's way, free from the clutches of the cruel, corrupt cliques, who have lead them from disaster to disaster for decades.
Thus, rather than pouring millions into inoperative desalination plants and rusting sewage treatment works, the aid should be  in the form of generous individual relocation grants to allow non-belligerent Gazans to seek a safer, more secure future elsewhere, outside the "circle of violence" that inevitably awaits them if they stay.
This should be the real humanitarian effort to effectively eliminate the suffering in Gaza.  This should be the call to the international community: Let their people go!

Martin Sherman is the founder and executive director of the Israel Institute for Strategic Studies.