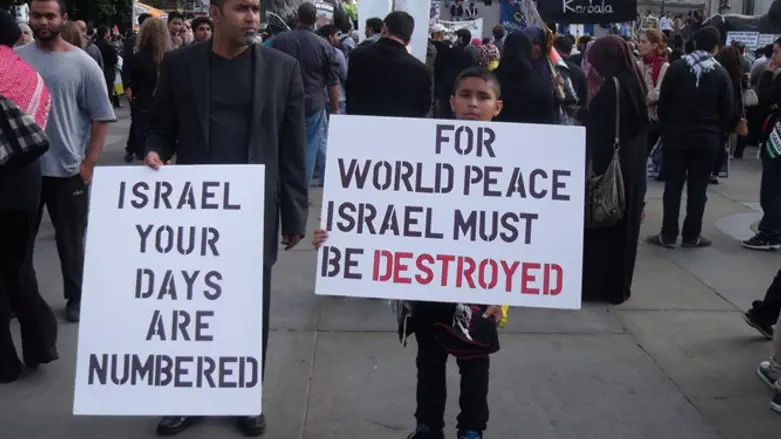 Open Letter to Major General (res.) Amnon Reshef
Dear Major General (res.) Reshef,
You and the other members of the Commanders for Israel's Security should learn more about your prospective neighbor before you start on your road to the destruction of Israel.
I am a 94 year young American Vet who had fought from Normandy to the most easterly part of Germany when the war ended.  I have purchased two ambulances for Magen David Adom and a motorcycle for Hatzalah.  My father collected money for arms for Israel in the mid-1940's.  My son and I have been writing, lecturing, and debating for Israel for many years. 
We both were very surprised and shocked to hear about your organization "Commanders for Israel's Security," and your peace plan for a two-state solution.
The saying that "it takes two to tango" should be considered very carefully before you embark on your campaign.
Is Hamas, Fatah, or the Palestinian Authority to be your Peace Partner; or will it be all three?
Hamas and the Palestinian Authority have charters which call for the elimination of Israel.  Fatah has a constitution which also calls for the destruction of Israel.  Oslo, thus far, has been the only "peace" agreement that has been signed.  The unilateral departure from Gaza was another attempt at peace with the Palestinian leaders.
Arafat, et al promised in the Oslo Agreement to have the Palestine National Council (PNC) annul the onerous charter clauses.  They never changed one word of the charter; however, Arafat did convince almost everyone that the April 1996 PNC meeting resulted in twenty-six charter clause annulments and partial annulments.  Thus far, Israel pursuant to Oslo, conveyed large segments of land to the Palestinian Arabs and the unchanged 1968 charter still is the Palestinian "Junior Koran."  I don't have to tell you the result of the Gaza withdrawal.
Palestinian Media Watch (PMW) and Middle East Research Institute (MEMRI) issue frequent translations of the PATV, Press, Palestinian leaders' utterances, and Friday sermons.  If anyone with an open or closed mind would read these translations, nobody would want to enter into any type of peaceful relationship with the advocates of such terrible concepts.
How many times must you hear Palestinian leaders say that an agreement with Israel is similar to the agreement which Muhammad signed with the Quraysh, before you will believe it?
How many times must you hear Palestinian leaders say that we will destroy Israel in phases, before you will believe them?
How many times must you hear Abbas or other Palestinian leaders refer to terrorist murderers of Israeli civilians as martyrs, before you will understand them?
You and your fellow commanders should also study the Cairo Palestinian National Council (PNC) "Political Programme of June 9, 1974."  The Palestinian leaders decided after the Yom Kippur War that a frontal attack against Israel was useless.  Thus, they created the concept of destroying Israel in phases in this Programme.
The Declaration by the PNC in Cairo on March 22, 1977 reiterated their 1974 Programme.
Intention is what you must consider before you decide to do anything.  I respectfully ask you to find one iota of any Palestinian leaders' words or deeds in Arabic, which could lead you to conclude that they would settle for any result other than the elimination of Israel from their Muslim Waqf.
Respectfully,
William K. Langfan