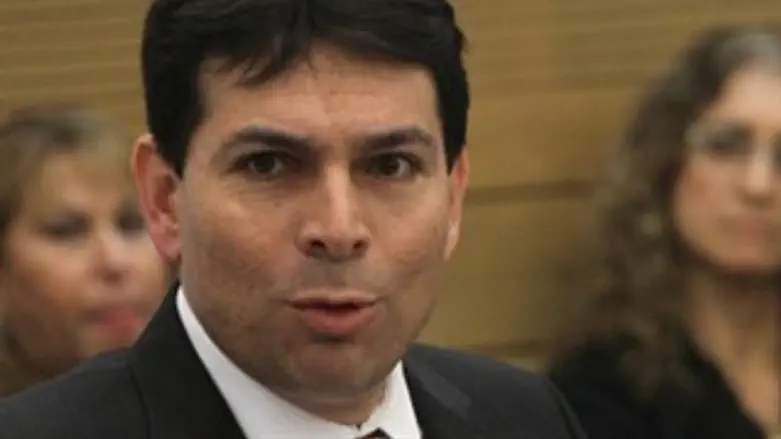 Man of the future
Being Israel's ambassador to the United Nations is probably one of the most high-pressure and important jobs in the diplomatic corps of Israel. That's why it was so important for us to take up the newly appointed UN Ambassador Danny Danon on his invitation to meet with him at his offices on Second Avenue in Manhattan this week.
It was Monday morning and the wind was whipping around the avenue blocks in the city. Braving the tardy introduction of winter to our area, we made it in to the consulate building with the wind gusts trying to follow us in, though with the security as tight as it is, even the wind did not stand a chance.
The battery of security measures begins at the elevator in the lobby. There you have to be on a list of appointments and then produce identification. From there it is up to the 13th floor (a floor most buildings tend to skip over), then on to the metal detector and a more rigorous inspection than in the airport. Then you take the elevator up to 14, where you are met by an aide to the ambassador who walks you up a stairway to floor 15, where the offices are located.
Danny Danon was by most counts an unlikely choice to succeed Ron Prosor as Israel's ambassador to the UN. In Israel, he was a popular member of the Likud and a frequent and fierce critic of Prime Minister Netanyahu. He challenged Mr. Netanyahu for the leadership of the Likud more than once.
But now he is Israel's man at the UN in New York, which presents an array of challenges and obstacles that he has to deal with and try to overcome on a daily basis.
"There are really two Israels at the UN," Ambassador Danon says. He explains that outwardly there is a display of criticism and hostility to Israel, but privately many of his colleagues are complimentary of the Jewish state and are anxious to have a relationship with Israel, particularly in the area of science and technology. These diplomats no doubt have instructions from their leadership at home to toe the international party line of being pro-Arab and anti-Israel in order to survive.
Danon says that the UN is a different place in private or, as they call it, "on the sidelines." I asked him about the Palestinian representative with whom he said there is strictly a cordial business relationship, and especially so when he said in one of his harangues that Israel is killing Palestinians so as to use the blood in religious rituals. Some old ways just die hard—or maybe they never die at all.
Danny Danon was one of the popular ministers and probably the most listened-to activist in Likud until he accepted the assignment at the UN. We discussed the decision to leave Israel and come to live in New York with his family for the next three years. He said it was not an easy decision but that he has committed himself to serving Israel and the Jewish people, and after long deliberations decided he could make a greater contribution at the UN than in the Israeli government, at least for now.
We briefly touched upon future leadership of Israel, as Binyamin Netanyahu cannot be prime minister indefinitely. As mentioned earlier, Danon was one of the only Likud ministers with real designs for leadership of Israel. When I asked him directly if he had designs on being prime minister down the road, he said that for now his full attention and energy is directed at the job at hand at the UN. Then I suggested that I wouldn't mention in this article that he might be a future prime minister. To that he responded, "You can write whatever you want."
It's not clear that being an ambassador is an effective stepping-stone to leadership in Israel. The only personality that comes to mind is Yitzchak Rabin, who was the ambassador to the U.S. years before becoming prime minister. But then there was Mr. Netanyahu himself, who started his political career as Israel's UN ambassador, so maybe Danon is just trying to follow in Bibi's footsteps.
That remains to be seen. Of all the people in politics in Israel today, Danny Danon is one of the few who make an impression that makes it possible to see him as a prime minister of Israel one day.
Most of our conversation, however, was about matters at the UN. Danon talks about the imbalance there when it comes to Israel. He interestingly points out that last year, in 2015, there were 22 anti-Israel resolutions introduced and voted upon at the UN. At the same time, he adds that quite amazingly there was one resolution apiece critical of Iran, North Korea, and Syria, where over 250,000 people have been murdered by their own government.
As to why such an inordinate amount of attention is paid to Israel, the ambassador says that while the UN should be focused on dealing with ISIS and the situation in Syria, Yemen, Libya, and Iraq, the leaders of the UN have no idea what to do or how to handle any of these hot spots. As a result, Danon says, the nations of the world turn their attention toward Israel.
With the turmoil in the Middle East growing almost daily, a few positive things have emerged from the chaos that have benefited Israel. And one of those key matters, the ambassador says, is the dispelling of the notion that a nation of Palestine or peace between Israel and the Palestinians is at the core of the regional dispute. "I think it has been proven beyond doubt for most that this is not the case, and that additionally settlements or Israel's presence in Judea and Samaria is not the issue that is the obstacle to a peace agreement between the parties."
Our conversation then shifted to this presidential year and his ideas about the candidates as it will impact Israel going forward. He says that he hopes to meet with all the candidates at some point and to effectively represent and communicate Israel's positions on any number of issues that impact on the Middle East and beyond.
I suggest to the ambassador that I have long felt that we will know if peace is possible when Secretary of State John Kerry can stay overnight in Gaza or Ramallah on one of his trips to the region. Danon agrees, but adds, "Why mention Kerry? Abbas's life would be in danger if he tried to spend a night in Gaza."
Though he has only been here three months so far, I asked Danon if he could give me an early analysis of the difference between Jews in New York and Jews in Israel. He says that all he can see so far is that all of the diverse communities here have been welcoming to him. Having already seen him at a few dinners, I suggested that with Jewish organizational life being what it is in New York, he probably does not get any rest. "Shabbat is for rest," he says.
As far as the endlessly elusive peace between Israel and her Palestinian neighbors, Danon does not see it happening while Mahmoud Abbas is president of the Palestinian Authority. The hope, he says, is that the next generation of Palestinian leadership will be more reasonable.
While waiting for the ambassador and looking around the office, I noticed a plaque on the wall that listed the various personalities who have served as UN ambassador in the past. There on the list was Benjamin Netanyahu, who served in this position in 1984–88. I mentioned to Danon that as a young journalist, I was present for a meeting with Netanyahu in the conference room near the ambassador's office.
I saw the long conference table and recalled exactly where I was sitting at a meeting called by Ambassador Netanyahu with the Jewish media in New York. I remembered asking him about how the death of his brother Yoni, in Entebbe in 1976, has influenced his world outlook. He haltingly responded that terrorism and rogue regimes would be the challenge to the world in the years and decades ahead, and that the experience of losing his brother had made him painfully aware of this reality. How right he was.
I told Ambassador Danon that the offices looked pretty much the same as 27 or so years ago. He agreed and said that he thought the office furniture was still the same, going back decades.
But more importantly, the reminiscence of those days that Netanyahu spent in New York was a reminder that in looking to Danny Danon's future in politics, anything is possible.
Comments for Larry Gordon are welcome at [email protected].