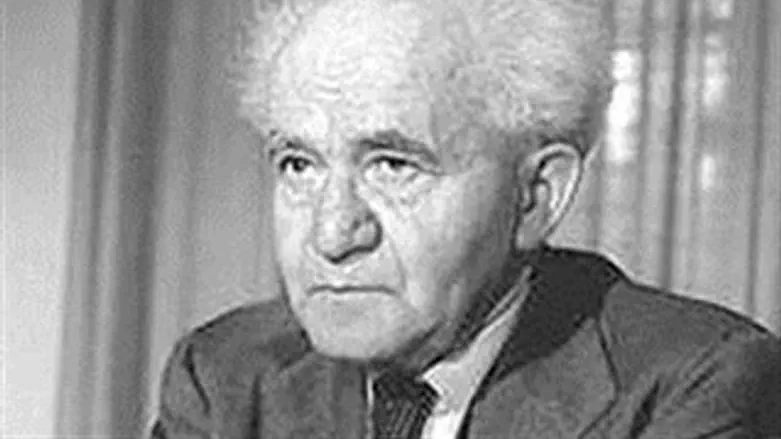 David Ben Gurion and the Arabs
Although we in the Jewish world are preoccupied and tense at the sight of the cruel Arab-Islamic terror running rampant throughout our country, it is worthwhile remembering David Ben Gurion's approach to the Arab-Israeli conflict. He took advantage of an historic moment and rare window of opportunity in May 1948 (by declaring the establishment of the State of Israel, ed.), but did not join in the dancing that erupted spontaneously on the streets of Tel Aviv that joyous Sabbath eve.
Ben Gurion's realistic instincts tempered his long term vision:  the security field was lit somewhat by Unit 101 and Israel's nuclear capabilities, there was a plan drawn up for national development based on immigration and settlement. His heart beat with Zionist fervor, while his clear practical and ethical analysis demarcated friends and enemies among the population sectors dwelling in the newly-formed state.
All his life, despite ongoing and useless attempts at conciliation, Ben Gurion understood that the Arabs living in the land of Israel act as a barrier blocking the way towards the goal of Jewish national rebirth. As long as the Arabs rejected every solution based on territorial and political compromise, as became clear in 1937 and 1947, there was no hope, just an illusion of coexistence.  Ben Gurion belonged to Mapai (the socialist labour party, ed.), not Hashomer Hatzair (the far left socialist movement under Mapai's political umbrella, ed).
Zionist Outlook
Ben Gurion's socialist viewpoint was made public in 1921. It was based on his ambition to create a centralized, strongly disciplined workers society, a form of half-military organization that exercised control over all the economic apparatus in the Zionist entity. This approach blended well with his aggressive attitude towards the country's Arabs.
While he played around with talks held with Arab leaders, especially in the 1930s, it was clear that nothing was going to come of those efforts. He made it clear to his fellow negotiators that the land of Israel belongs only to the Jewish people and that the desired boundaries – based on strategic
In 1940, he declared Palestinian-Arab nationalism "not far removed from Nazi philosophy."

and historic considerations –  should reach all the way to the desert that lies east of Jordan and up to the Litani River in southern Lebanon.  He had decided on this by 1918 and that is what was seen on the map handed to the Versailles Peace Conference one year later. In addition to his stressing the need to go south to the Negev, he saw a need for the Zionist project to go up into the hills (Samaria, ed.) and not be limited to the lowlands.
In choosing the wording for Israel's Declaration of Independence, Ben Gurion took care to omit any references to borders. Dynamic Zionism would spread outside the UN's partition map, he felt. For him, it was a tragedy when the War of Independence ended with Judea and Samaria not under Israeli rule.
Political stand
Ben Gurion had a decided opinion about the enemy that battled Zionism in Israel. In 1940, he declared Palestinian-Arab nationalism "not far removed from Nazi philosophy." He, who could hardly be accused of naivete with regard to the conflict, said firmly during the 1936-39 Arab Revolt, that Jews will immigrate to Israel "with or without Jewish-Arab understanding." In other words, the Arabs do not have veto power over the fate of Zionism. In addition, he stated that Zionism would advance without peace even though it would be preferable to do so under peaceful conditions.
During the difficult hours of the War of Independence, Ben Gurion spearheaded a tough policy that moved the Arabs outside of the state's borders as the lines of conquest moved during the protracted and successful fighting. 
Israel's first prime minister, along with prominent Zionist leaders and security figures from 1948 on, was without a shred of doubt, in favor of transferring the Arabs out of the country, uprooting them and destroying their villages, and not allowing any of them to return to their homes. As long as Israel had the upper hand, there would be a small bearable Arab minority. Security needs dictated the developments, and only the extreme Mapam party requested that the refugees be allowed to return.
Everyone knows of Ben Gurion's energetic sweeping gesture while ordering Commanders Rabin and Allon to expel the Arabs of Lydda and Ramleh. It was already clear to Ben Gurion and others that there are friends and allies – first and foremost the Druze, then the Cherkassim and Bedouin -  and there are enemies who attack Jews and endanger the fledgling state just emerging onto the world scene.
It is not surprising that Ben Gurion kept up this resolute stance vis a vis the Arabs and did not see them as equals in Israel – neither in civil rights nor in their value to the state. He established a military government in Arab areas that functioned from 1949-1966. The question of Israeli Arab loyalty necessitated a strict security setup that would prevail until they became accustomed to the new reality.
I must add that 67 years later, the truth is that the Arabs never actually recognized Israel's right to exist as a Jewish state.
On a personal note, Ben Gurion took no interest in the Arabic language, never visited an Arab village and suggested a budgetary provision for incentives to encourage a high birthrate among Jews alone. There was little room for lofty democratic and egalitarian principles in Ben Gurion's heart, he of the Jewish vision and Israeli reality.
In the spirit of Nobel Prize for Literature Laureate S.Y. Agnon's discerning remark about the Hevron massacre and Jerusalem pogrom of 1929*, Ben Gurion neither loved nor hated Arabs. When they committed acts of murderous terror against Jews, those barbaric acts that went on year after year, he simply wanted to be rid of them so he would not have to look at their faces anymore.
(*S.Y. Agnon's famous line regarding his own, changed attitude toward the Arabs in the wake of the 1929 riots and the barbaric massacre and torture of Hevron's Jewish residents by the neighbors they had lived with peacefully for years, was: "Now my attitude is this. I do not hate them and I do not love them; I just do not wish to see their faces.")
Translated from Hebrew by Rochel Sylvetsky, Arutz Sheva Op-ed and Judaism editor.