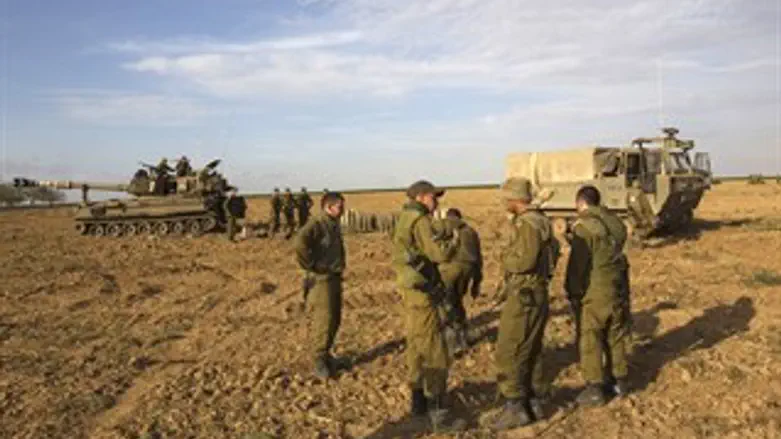 Rachel Corrie's Case is Back in Court
Rachel was supplied with a training manual from the ISM that told her how to be a human shield to interfere with the IDF.

The family of Rachel Corrie has found a lifetime sinecure defending their deceased daughter's efforts to support Hamas terrorists in Gaza for the International Solidarity Movement and is back in the news.
The Corries filed a wrongful death lawsuit against the IDF about two years ago, still maintaining that the IDF intentionally ran over their daughter who was acting as a human shield for an Arab pharmacist's house in Rafah, Gaza.
Rachel Corrie was in Gaza with a group of anarchists to lend aid to Hamas terrorists in the region and to interfere with the Israeli military.  She was killed when she plunked herself down in front of a Caterpillar D9 tractor that was clearing the entrance to a weapons smuggling tunnel and the driver ran over her because from his height he could not see her.
Rachel was supplied with a training manual from the ISM that told her how to be a human shield to interfere with the IDF.  Her actions were not in the interest of peace, but intended to help those terrorists she called "martyrs" among the Palestinian Arab Hamas murderers - and whom she described as "noble." 
Two weeks before her death, she wrote home to her mother how she had been in the weapons smuggling tunnels in Gaza to help retrieve the dead body of a Hamas terrorist.
The Israeli court found in favor of the IDF as anyone with common sense would have. Rachel Corrie deliberately placed herself in harm's way in a combat zone.
A fellow ISM activist who was with her told me in a recorded phone conversation she was also there to draw sniper fire down on IDF soldiers should they try to remove her.
But the Corrie family, true to colors, along with their ISM-backed Arab attorney, Hussein abu Hussein, are now trying to reopen the wrongful death case in Israel's Supreme Court with a hearing scheduled for May 15th.
Part of this has to do with the action of the Palestinian Authority in trying to get the PA recognized as a signatory to the kangaroo International UN Court in the Hague. The goal is to try and pin the title of "violator of international law" on Israel in support of Hamas's goals.
Another part is keeping the Corries gainfully employed as ISM propagandists, touring the world and telling everyone how their daughter was a starry-eyed peace activist murdered by the big bad IDF - when she was really assisting a terrorist group.
The following letter just went out from Cindy Corrie to the Palestininan NGO Al Haq:
"Dear Al Haq:
"It has been nearly two years since an Israeli district court ruled that Rachel, our daughter and sister, was killed in Gaza as an act of war, voiding the Israeli state and military of all responsibility under Israeli law.  On Wednesday, May 21, 2014, a three judge panel will hear oral appeal arguments in the case, in a hearing scheduled at 11:30 a.m. at the Israeli Supreme Court in Jerusalem.  
"Please help to spread the word, and encourage your organization to have representation at court.  We believe it important to demonstrate strong interest from the NGO community about the need to challenge the disturbing verdict in this case.  See our lead attorney Hussein abu Hussein's response to the verdict in Ha'aretz. 
"This hearing provides another opportunity to bring light, not only to Rachel's case, but to the increasingly important need for universal human rights and protections to apply to all.  We urge you to write and publish about the case and to bring attention to the issues that remain so central to it: the rights of civilians, human rights observers, and nonviolent protesters during occupation, limited conflict, and war; the nature of Israeli military police investigations and lack of military and state accountability; the impunity enjoyed by those up the military chain of command; the devastation and immorality of continuing home demolitions; and the isolation of Gaza.  
"We encourage statements from your own research and expertise and refer you to trial-related information at the Rachel Corrie Foundation website and, also, to statements from human and legal rights organizations following the verdict.
"A press release will follow with further hearing details.  If representatives from Al Haq are able to join us at court, we would appreciate an email to that effect and to know of your presence that day.  
"Our family's efforts to obtain justice in Israel for Rachel's killing in Gaza in 2003 have been prolonged and demanding.  They began with the determination by the U.S. Government that the military police investigation in Rachel's case was not "thorough, credible, and transparent." That assessment, coupled with U.S. lack of will to take any serious action, led in March 2005 to our filing of a civil, wrongful death lawsuit against the State of Israel and Ministry of Defense.  There were delays because of Knesset actions to forestall all lawsuits stemming from military actions in areas of conflict.  
"It was March 10, 2010, when we heard the first court testimony and July 10, 2011, when we heard the last.  Twenty-three witnesses testified in fifteen court hearings that produced more than two thousand pages of court transcripts.  Another year passed before Judge Oded Gershon issued his egregious and widely condemned verdict.  Former President Jimmy Carter stated that the court's decision confirmed 'a climate of impunity, which facilitates Israeli human rights violations against Palestinian civilians in the Occupied Territory.'  In Israel, Uri Avnery wrote that the verdict 'revealed, once again, that the Israeli judicial system is a partner to the foul deeds.'
"We remain immensely grateful for the support we have had from you individually, from Al Haq, and from other legal and human rights organizations during this lengthy legal experience, and we look forward very much to reconnecting.  Please feel free to contact us through email or by telephone for any further information."
Sincerely and with much appreciation,
Cindy and Craig Corrie and Sarah Corrie Simpson"
Al Haq, is , of course, a Palestinian NGO which is a propaganda arm for Fatah and Hamas.
According to NGO monitor, the group in the past has done:
  Political Advocacy: Leader in the anti-Israel "lawfare" and BDS (boycotts, divestments and sanctions) campaigns. (See below for more information on Al Haq's "lawfare" campaigns).
   Was an active participant in the 2001 Durban World Conference against Racism, which adopted the strategy of promoting the complete international isolation and demonization of Israel through legal and other forms of political warfare.
  Regularly files lawsuits and submits politically motivated reports to the UN Human Rights Council and other international bodies.
  Uses its membership in the Palestinian Human Rights Organizations Council (PHROC) as a platform to lobby international forums and disseminate statements demonizing Israel.
  Proposed sabotaging the Israeli court system by "flooding the [Israeli Supreme] Court with petitions in the hope of obstructing its functioning and resources."In October 2013, Al-Haq and PCHR held a meeting with the Prosecutor of the International Criminal Court (ICC) to present a legal opinion, accusing Israel of "widespread and systematic commission of international crimes and violations of international law."
  Issued a 2013 position paper, "Feasting on the Occupation," calling on the European Union and "relevant United Nations (UN) bodies" to boycott Israeli produce. The paper accuses Israel of "violations of international humanitarian law" "illegal conduct," and "extensive destruction and appropriation of Palestinian resources."
  In 2013, Al Haq was part of a libelous campaign falsely suggesting that Israel steals water from Palestinians in order to  interfere with cooperation between Dutch companies and the Israeli company Mekorot.
  Al Haq's General Director, Shawan Jabarin, has been denied exit visas by Israel and Jordan on account of his alleged ties to the PFLP terrorist organization.
  In 2010, filed a criminal complaint against the Dutch company, Riwal, for alleged complicity "in the commission of war crimes and crimes against humanity." The complaint was dismissed in May 2013.
  In December 2010, Maureen Claire Murphy, managing editor of Electronic Intifada and a former Al-Haq employee, was subpoenaed by the FBI to appear before a Federal Grand Jury for her work with the Palestine Solidarity Group.
  Examples of Al Haq's "lawfare" campaigns are as follow:
In 2006, filed a case against the British government to end export licenses to Israel; it was dismissed by the UK Court of Appeal in 2008.  A similar case filed in 2009 was also dismissed in the preliminary stages.
Filed a lawsuit, Bil'in (Village Council) v. Green Park International Ltd. (Quebec, Canada 2008), accusing a Canadian company of "aiding, abetting, assisting and conspiring with the State of Israel" to commit "war crimes." Canadian courts dismissed this case and imposed costs on the plaintiffs.
   Al Haq worked with Al Mezan another Palestinian NGO to secure an arrest warrant in the UK against Israeli Defense  Minister Ehud Barak when he visited the UK in 2009
More recently they Supported the December 2009 arrest warrant secured in the UK by Hamas against Israeli opposition leader and former Foreign Minister Tzipi Livni, claiming she bore "special responsibility for the war crimes and possible crimes against humanity that characterized Israel's actions during the assault on Gaza."
The Israeli Supreme Court appeal is solely for propaganda effect and the Corries can be counted on the play the aggrieved victims.
One thing is certain, once this case is settled, the Corries will then visit the Hague and again start the same process. Hopefully, this next time the Hague may refuse to hear the case and the Corries can stay home and stop boring the world with their unending "complaint" about a student anarchist, whose death is understandably devastating to her parents, but who chose to sit in front of an army bulldozer in a combat zone to help terrorists with arms smuggling tunnels.