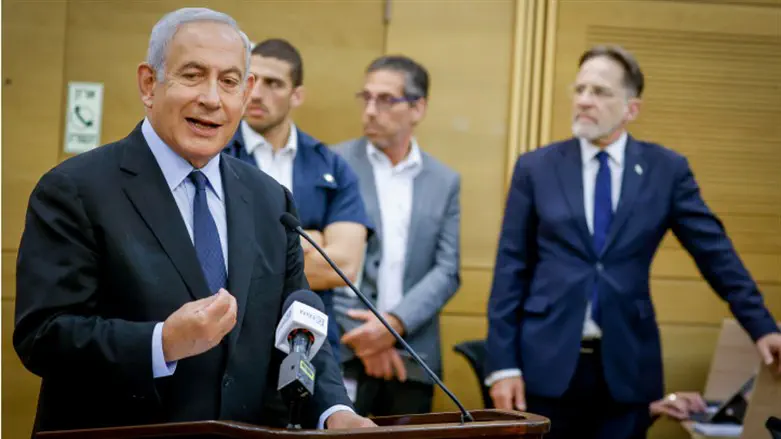 Netanyahu in the Knesset, May 16th 2022
Olivier Fitoussi/Flash90
More than two-thirds of Israelis do not want either of the Knesset's two Arab factions included in the next government, according to a new poll.
The poll, conducted by Panels Politics and published by the Jerusalem Post, found that 69% of Israelis, including 40% of Israeli Arabs, do not want the next Israeli government to include either the Joint Arab List or the United Arab List. Just 22% of Israelis favor including Arab parties in the next government.
If new elections were held today, the poll found, the Likud would remain the largest faction in the Knesset, rising to 35 seats – up from the 30 seats it won in the last election, but down from 36 seats in the previous Panels Politics poll, released last week.
Yesh Atid would come in a distant second with 20 seats – up from 17 currently and 18 in the previous poll – while Blue and White would hold steady at eight seats, and Labor would retain its seven seats.
The far-left Meretz party would not cross the 3.25% electoral threshold with just 2.6%, leaving it out of the next Knesset. Last week's poll also showed Meretz below the minimum threshold.
The rightist Religious Zionist Party alliance with Otzma Yehudit and Noam, which won six seats last year, is projected to rise to nine seats, while the ruling Yamina party would fall from seven seats to six.
United Torah Judaism held steady at seven seats, with Shas receiving eight seats in the poll.
Yisrael Beytenu remained at five seats, the same number it received in last week's poll but two below its current seven mandates, while the New Hope party again barely crossed the electoral threshold with four seats.
The Joint Arab List and United Arab List received seven and four seats respectively in the poll.
Broken down by bloc, the Likud and its allies received a total of 59 seats, the same as in last week's poll.
The Left-Arab bloc received 46 seats, with center-right parties aligned with the coalition totaling 15 seats.
The poll also offered a scenario in which the Religious Zionist Party and Otzma Yehudit run separately, and Communications Minister Yoaz Hendel (New Hope) joins Yamina.
In this scenario, the Likud receives just 32 seats, instead of 35.
Otzma Yehudit received six seats in the poll, compared to five for the Religious Zionist Party. Last week, both factions received five seats in the scenario poll.